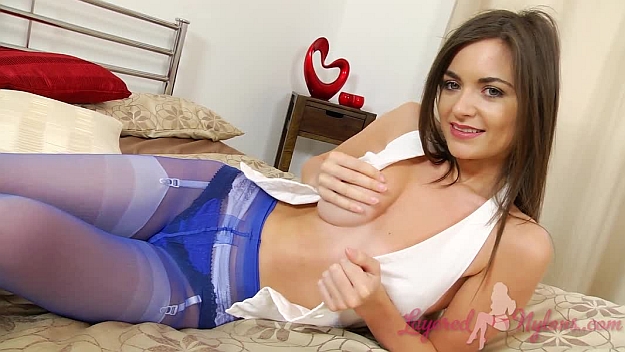 Tianna stood by the bed in her heels and posed in her white waistcoat and ran her hands over her hips and thighs in her short blue skirt. She slowly pulled up her skirt and revealed blue, sheer nylon pantyhose layered over white suspenders and stockings.
Reclining on the bed, Tianna pulled back the skirt and lifted her stockinged legs, using her feet to slip off each of her heels in turn. Her legs brushed against each other as she rubbed her nylon clad feet together, then she rolled over and caressed the cheeks of her lovely ass.
Tianna stripped off her waistcoat and cupped the soft flesh of her gorgeous all natural breasts in her hands. She lay back on the bed and slid both of her hands deep inside her pantyhose and they moved under the thin layer of nylon as she caressed her thighs and stocking tops.
Tianna stood in her stockinged feet and posed in her lingerie while fondling the soft flesh of her tits. She turned and pushed her hands down the rear of her hose and squeezed the pert cheeks of her ass through the sheer nylon of her panties.