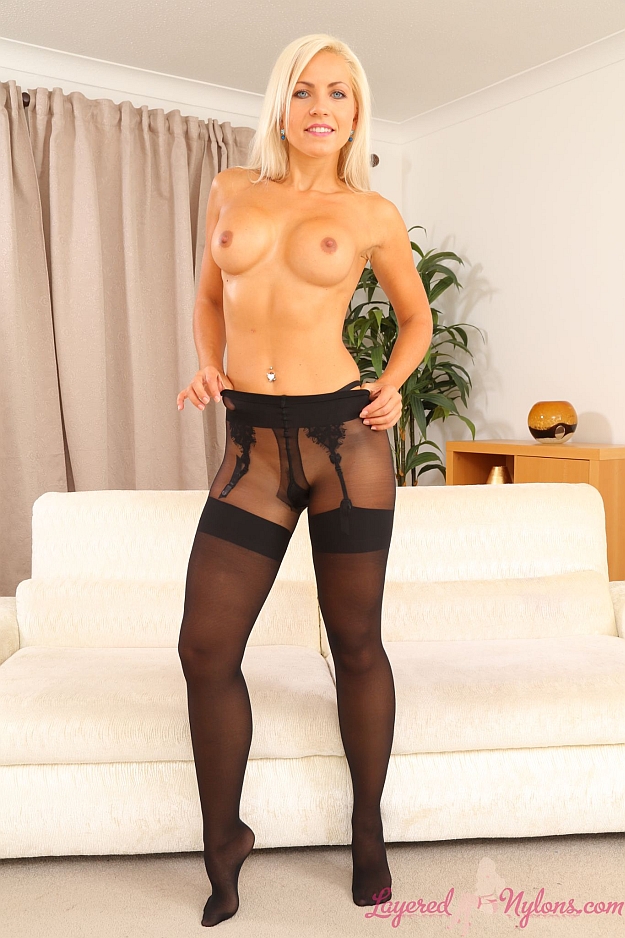 Busty blonde Jenni stood in her stiletto heels with her legs apart, looking back over her shoulder. She lifted up her short, flared dress and revealed black seamed nylon pantyhose, layered over suspenders and stockings.
Jenni pulled the dress to the front as she bent over and showed her ass, sheathed in it's layer of sheer nylon hose. Her black suspenders stretched around the curve of her buttocks and strained on the tops of her sexy nylon stockings.
Kneeling on the white sofa with the skirt up around her waist, she lifted the lower half of her legs and kicked up her stiletto heels. She swept her hands over the firm, round cheeks of her fabulous ass and caressed her shapely legs in their layers of black nylon hosiery.
Jenni unbuckled her strappy, sling-back heels and stood on the floor in her stockinged feet, then lifted up the front of the dress to reveal she was sans panties under her black, sheer nylon pantyhose.
Pulling open the top of her dress, she uncovered her tits and stretched the material so it framed the underside of her boobs. She stripped the dress over her head and posed topless, pulling her pantyhose up so the opaque, black gusset stretched tight around her naked crotch.