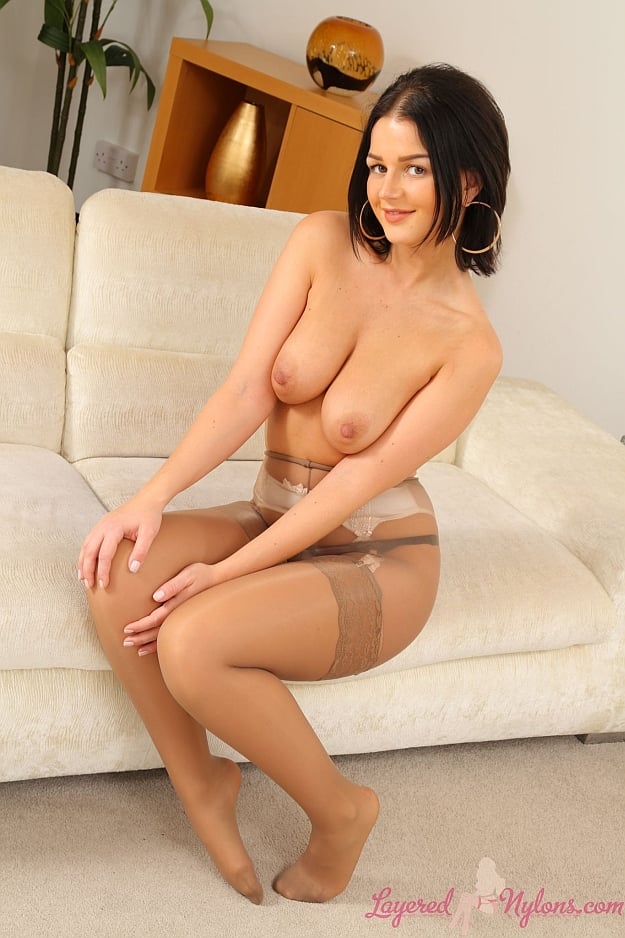 Brunette babe Erica wore a black lace top and white satin pants that clung to her shapely legs as she posed in her black stiletto heels. She bent over and the raised outlines of her suspenders showed through the shiny material of her pants that encased her thighs and cheeks of her ass in tight satin.
Erica unzipped her pants and bent over as she stripped them down her legs, revealing her shapely buttocks sheathed in beige tan nylon hose. Her white suspenders stretched over the curve of her buttocks, pulled taut on the lace tops of her beige nylon stockings under her sheer, nylon tights.
Reclining on the sofa, Erica opened her legs and revealed the beige gusset of her pantyhose stretched over her the crotch of her pink and black pantie thong. She slipped her short sleeved, lace top over her shoulders and pulled it down to uncover the soft mounds of her all natural breasts.
Erica slipped off her heels and posed topless as she reclined on the sofa, lifting up her legs and giving a close-up of her pretty feet as she rubbed them together.