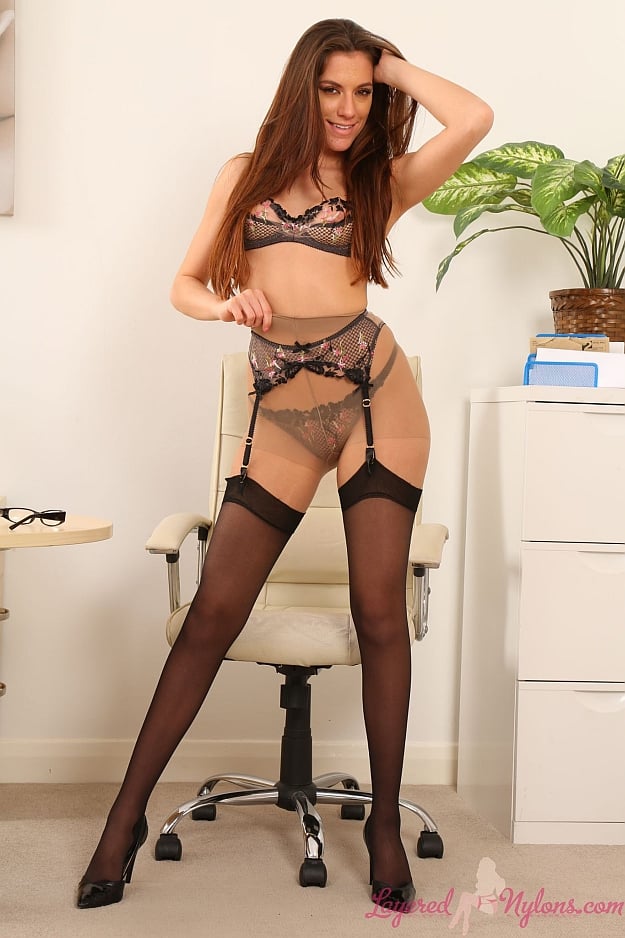 Secretary Becky Perry dressed smartly for the office in a striped cotton shirt, black pencil skirt, seamed nylon hosiery and a pair of stiletto heels. She looked sexy sitting in her chair with one leg crossed, peering over the rim of her glasses while her fingers loosened the open top of her shirt.
Becky removed her glasses, stood up and walked over to the filing cabinet and opened a bottom draw. She remained in a bending position, giving a view of her sexy ass in her tight skirt and the seams of her stockings running up her leg.
Becky lifted her skirt, revealing black suspenders and stockings layered over tan, sheer nylon pantyhose that covered her thighs. She turned and pulled the skirt higher to show the 'whale tail' of her pantie thong and her shapely buttocks under the clingy layer of her sheer nylon tights.
Becky returned to her chair and stripped off her skirt, then unbuttoned the front of her shirt to reveal a pretty, sheer lace and floral patterned bra, and a matching suspender-belt around her waist attached to her black nylon stockings.
Becky stood and stripped off her shirt and bra to uncover her petite all natural breasts, while posing topless in her sexy lingerie, stockings and pantyhose layers.