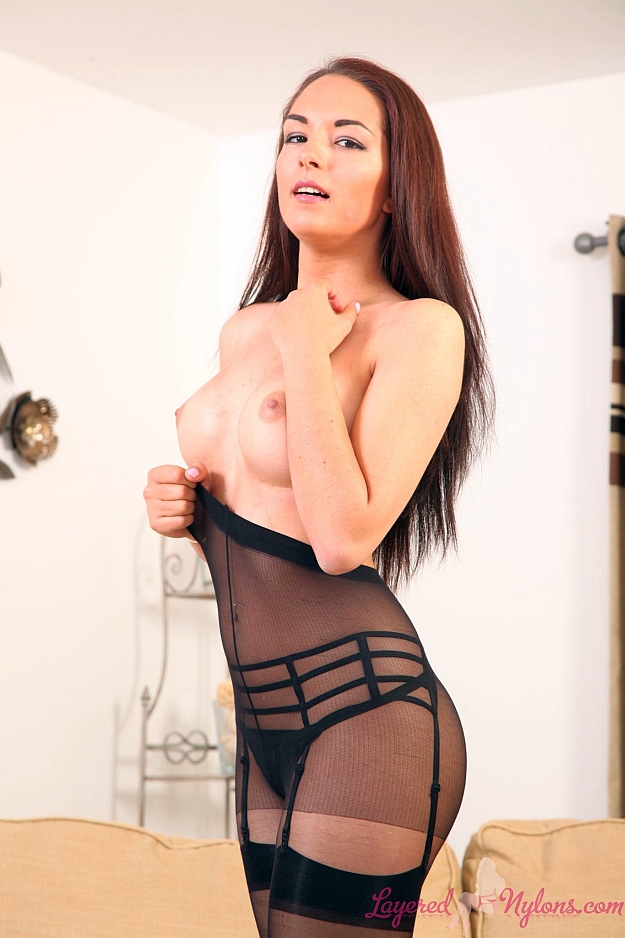 Gorgeous brunette Rebecca G relaxed on the sofa with her legs stretched out and slowly pulled back the hem of her dress to reveal the sexy, metal clasps of her black suspenders and stockings under a layer so sheer nylon pantyhose.
She unzipped the top of her dress and opened it up to show some cleavage, then stood up with her legs slightly apart and swayed on her heels. Turning, she lifted the back of her dress and revealed the black suspenders stretched around her pert buttocks and straining on the tops of her sexy stockings, under the layer of her sheer nylon tights.
Rebecca lifted the dress higher, revealing the black designer suspender-belt made of black straps that clung to her hips; the suspenders framing the black triangle of her lacy pantie thong that covered her crotch and slipped between her thighs under her nylon hose.
She stripped the dress over her head and released the catch of her black bra, then slipped the straps down her arms and stripped the garment away to expose her round boobs.
Rebecca reclined on the sofa and rolled over onto her front to show her bum cheeks, sheathed in her black nylon hose, then swung the lower half of her legs back to cross them at the ankles and display her stiletto heels.