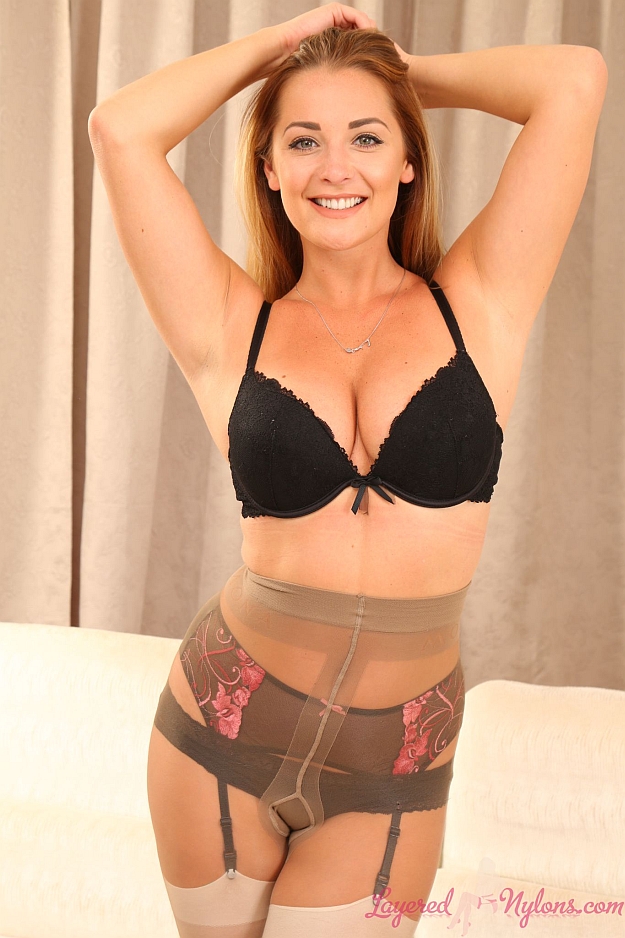 Gorgeous Daisy Watts gave us one of her sparkling smiles as she posed in a stunning, light-pink dress that clung to her boobs and fabulous curves.
She slowly lifted the dress and revealed beige nylon pantyhose layered over black suspenders attached to white stockings. Then pulled the dress up around her waist to show her lace panties and the beautiful, fuchsia pink flowers decorating the black suspender belt, under her sheer nylon tights.
Daisy turned to show her pantyhosed ass and delectable legs in their layers of nylon hosiery as she stood and swayed in her heels. Her black lace panties clung to her buttocks which were bound by suspenders that pulled on the tops of her stockings, under the layer of beige nylon hose.
Daisy stripped the dress by pulling it over her head and posed in the black bra that covered her boobs. Her thumbs slipped under the bra straps and teased them over her shoulders and down her arms, then she released the catch and stripped the bra away to expose her beautiful, all natural breasts.
Sitting on the sofa, Daisy used her feet to push off her candy pink stiletto shoes so they dangled from her nylon covered toes. She discarded the shoes and stood in her stockinged feet, pushing her hands down inside of her pantyhose and pulling on the nylon so the gusset stretched tight around the crotch of her panties.