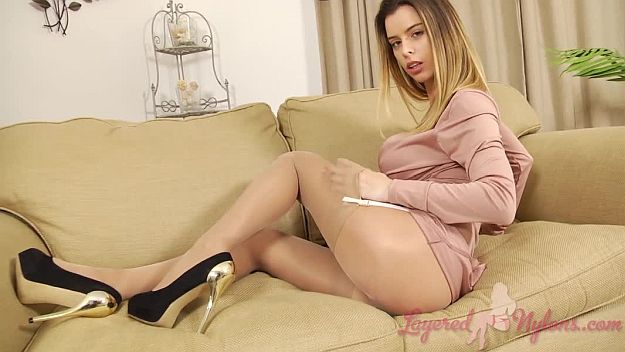 Rae posed in her asymmetric dress, her ample cleavage exposed in the low cut front and showing her legs in their beige-tan, nylon hosiery.
We went in close for a view of her black shoes and their gold stiletto heels, and a tantalizing look under her dress at her panties under her pantyhose, and cream coloured suspenders attached to her tan stockings.
Rae reclined on the sofa, running her hands all over ass encased in shiny, nylon hose and her shapely legs in their sexy stockings. She slipped a hand between the layers of nylon hosiery, pushing her arm deep down inside her stockinged leg and around her thigh, causing her suspenders to strain on her the tops of her nylons.
Rae pulled the stretchy material of her dress over her shoulders and around the flesh of her massive boobs. She stood and turned, allowing the dress to fall away down her legs, revealing her buttocks and white pantie thong under her sheer nylon tights. Bending forward, the white suspenders stretched around the curve of her thighs as she stripped the dress from over her stiletto heels.
Rae sat on the sofa with her legs wide open and caressed her pendulous, all natural breasts, and stroked her stockinged legs in their layers of beige-tan, nylon hosiery and stiletto heels.