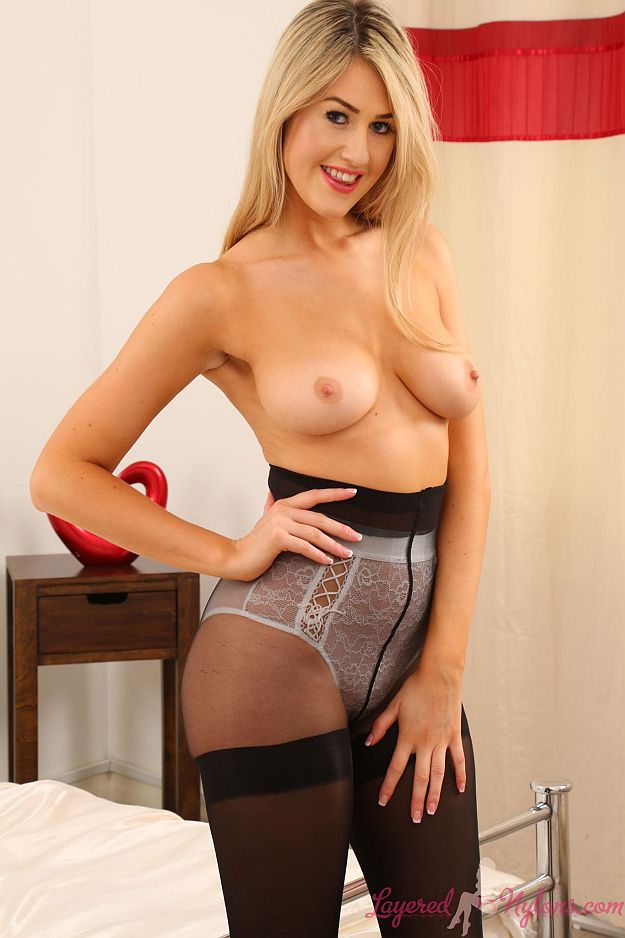 Gorgeous blonde Lola posed with hands around her hips, looking very sexy in her clingy, red dress; the outline of her bra poking through the material around her ample bosom.
Lola turned, bent forward and looked over her shoulder as she lifted the back of the dress, revealing her ass clad in white, full-back panties and hold-up black stockings, under a layer of sheer nylon pantyhose.
Lola stood facing us and lifted the front of her dress over the white, almost sheer, long-line bra that covered her boobs. She placed her hands under breasts and gave them a gentle lift, so the soft flesh of her cleavage formed over the top of the pretty, lace bra cups.
Stripping off the dress, Lola reached behind her back, releasing the clasp of her bra and uncovering her all natural breasts. She turned and posed topless in her white lace panties and black nylon hosiery, her long blond hair flowing over her shoulders brushing against her naked tits.