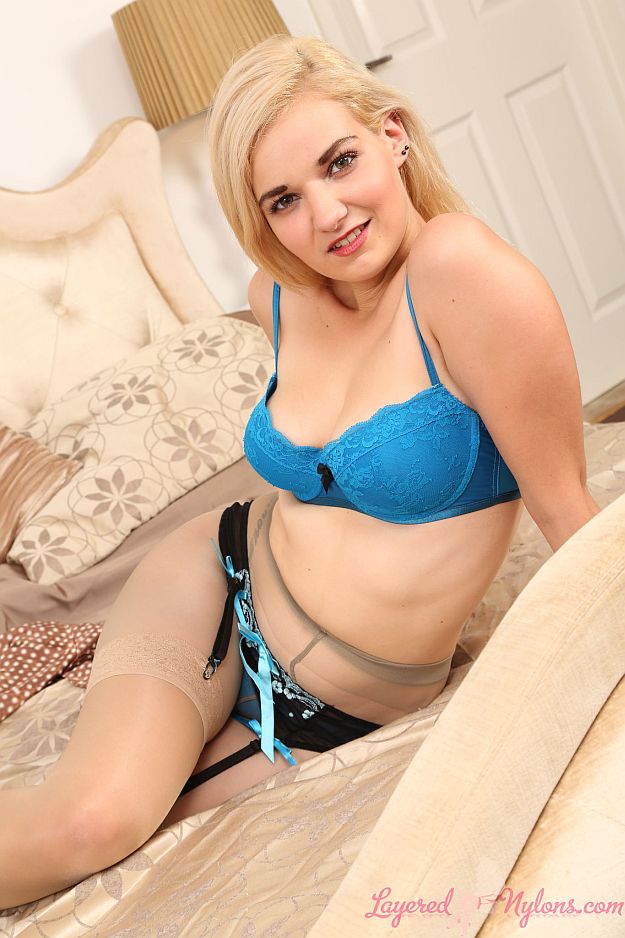 Pretty blonde Dolly strips down to her blue lingerie, beige nylon stockings and pantyhose layers in her debut photo-set at Layered-Nylons.
Dolly reclined on the bed, her short black skirt pulled back over her thighs revealing black suspenders and the lace tops of her beige stockings, layered over beige nylon pantyhose.
Lifting one leg, she gave us a view of the sheer nylon of her pantyhose gusset that stretched over the crotch of her panties. Her orange heels pointing vertically, she drew her hands down her extended leg and over the soft, silky layers of her beige-tan hosiery.
Dolly got on her knees and looked over her shoulder as she teased the skirt over her ass; her black suspender-belt stretched around her pantie clad buttocks and the suspenders pulling on her stocking tops.
Dolly grabbed her boobs through the satiny bronze coloured and white polka-dot shirt, then stripped it off and posed in the blue bra; the skimpy suspender-belt and taut suspenders framing the crotch of her matching blue panties.
Dolly slipped the straps of the bra over her shoulders and released the catch at the back, lifting away the under-wired cups and exposing her beautiful, milky white breasts. She knelt on the bed, leaning forward and framing her all natural boobs between her arms, forming the soft, mounds of her enticing cleavage.