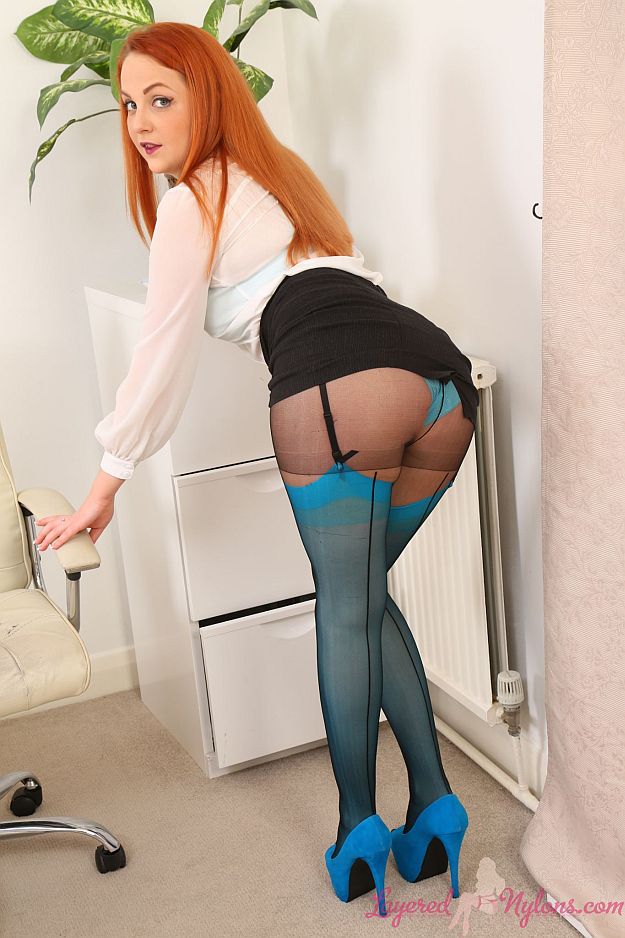 Saucy redhead secretary Kara peered over the rim of her glasses as she sat in the chair, the outline of her blue bra showing through the thin material of her white blouse. She opened her legs to give an upskirt view, revealing turquoise-blue stockings and matching panties under the layer of her sheer nylon pantyhose.
Kara stood and unzipped the back of her skirt, bending forward so her suspenders stretched over the cheeks of her ass as the garment slipped down her stockinged legs. Stepping out of the skirt, she looked over her shoulder as she caressed her buttocks clad in blue panties, and encased in the sheer nylon of her seamed pantyhose.
Kara stripped off her blouse, uncovering the blue lacy bra which uplifted and pushed together the ample flesh of her boobs. Laying on her front over the desk top, she swung her legs back and crossed them at the ankles to display her blue suede, stiletto heels.
Kara stripped off the bra and knelt on the desk, posing topless and framing her lovely boobs between her folded arms. She lay back with her legs open, pulling her pantyhose up by the waist so they stretched tight around the crotch of her pretty, blue panties.