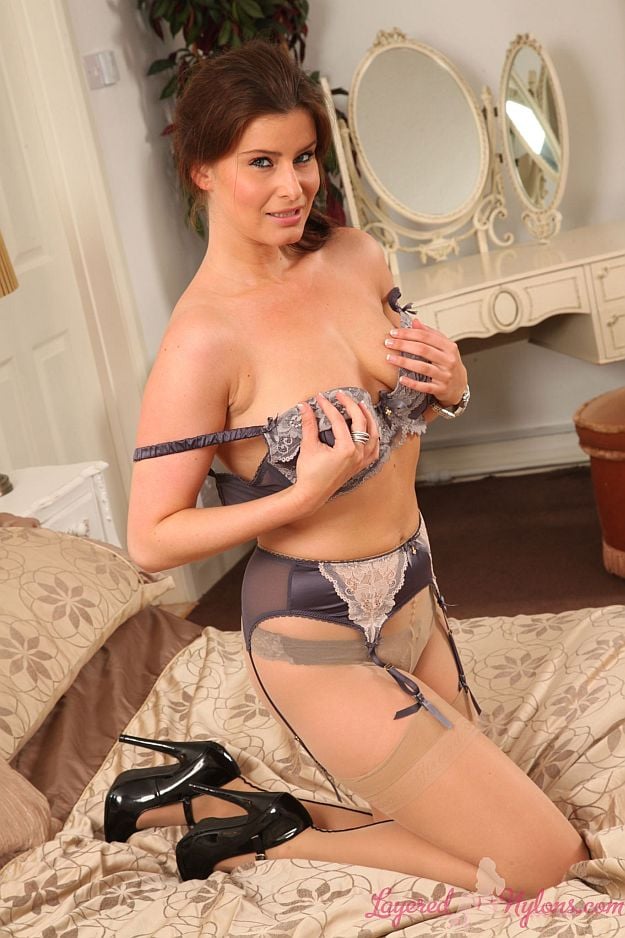 Brunette secretary Kamila adjusted the frame of her glasses and looked straight back at us, dressed in her stylish, black and grey pin-strip dress, she placed her hands around her hips and struck a dominant pose.
Kamila turned and leaned over the foot of the bed, her dress stretched tight around her shapely ass; her legs in tan nylon hosiery with long, black seams, drew our eyes down to her feet in their six-inch high, stiletto heels.
Lifting up the hem of the dress, Kamila revealed satin suspenders, attached to tan stockings, framing the matching satin and lace panties, under her sheer nylon pantyhose.
Kamila unzipped the back of her dress, looking over her shoulder as she stripped it down her arms to her waist. She pulled the dress over her ass clad in grey-lace panties and sheer nylon tights; bound by satin suspenders, stretched over her buttocks that pulled on the tops of her stockings.
She stripped off the matching lace bra, and her long brunette hair brushed against her all natural breasts, as she posed in her lingerie and nylon hosiery.
Kamila sat on the bed, removed her heels and lifted her legs, bringing her feet together to show her stockinged soles, and pointing her toes in their layers of nylon hosiery.