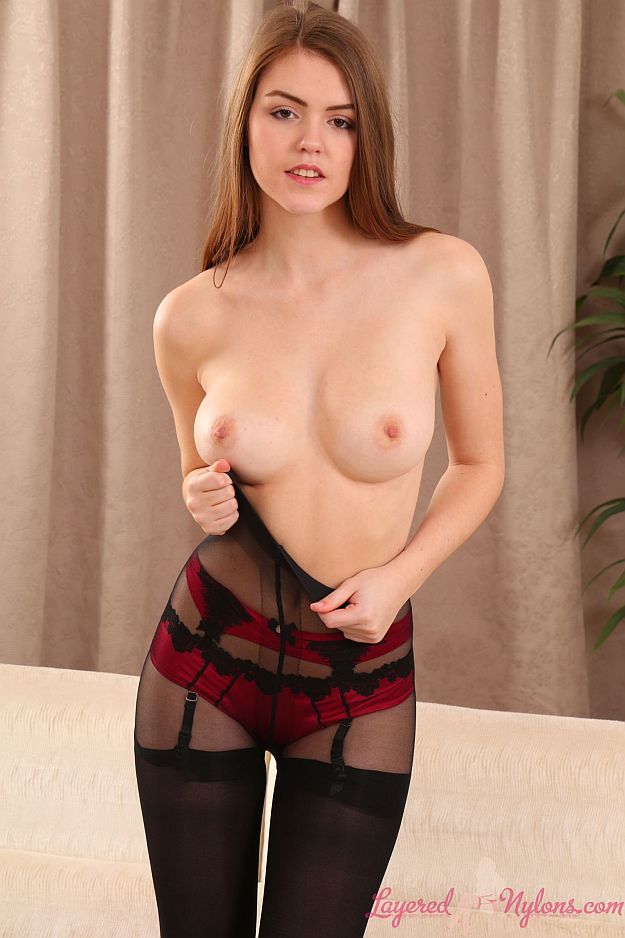 College girl Rosie likes to go out partying and showed us one of her more recent outfits, featuring a sexy, leather bustier and short, checked skirt. She especially wore layers of black pantyhose and stockings on this occasion, and some red, patent leather heels.
Rosie knelt on the sofa to give us a cheeky peek under her flirty skirt, revealing her black stocking tops and red crotch of her silk panties under the layers of her sheer nylon pantyhose.
Standing with her back to us, Rosie stripped the off the skirt to show her ass, clad in black panties and taut suspenders, straining on the tops of her stockings. She reached behind and unzipped the bustier, folding her arms around the bra cups to hold it place over her breasts.
Rosie turned, letting the leather bustier fall away and posed with her forearms framing her naked, all natural breasts. Gripping the waist of her pantyhose, she pulled it up around her waist, stretching the nylon tight against the crotch of her red satin panties.
Reclining on the sofa, Rosie removed her stiletto heels, and lifted her legs to give a close up view of her feet in their layers of black nylon hosiery.