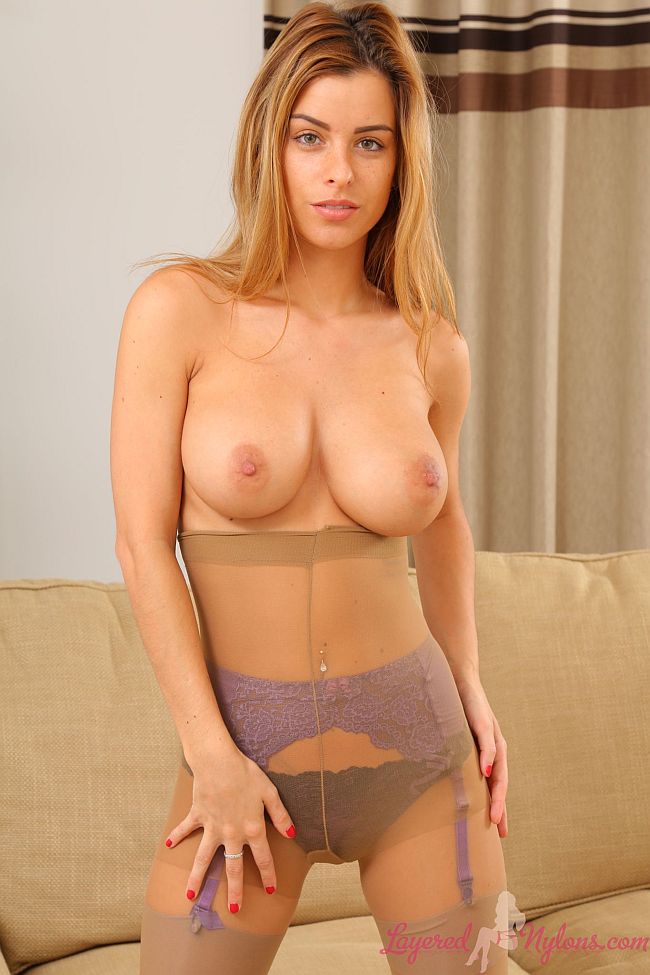 Gorgeous Rae reclined on the sofa and lifting up her legs she crossed them at the ankles to display her feet in black stiletto heels. She pulled the hem of her skirt back revealing purple suspenders attached to tan stockings under a layer of beige, sheer nylon pantyhose.
Rae slipped off her heels and once again she raised her legs to give a close up of her feet encased in their layers of soft, tan nylon.
Rae got up from the sofa and stood in her stockinged feet, then pulled down the top of her dress, exposing her fantastic, rounded all natural breasts. Her hands caressed her full-sized boobs and the thick, pink nipples which stood out between her fingers stretched over the roundness of her fleshy tits.
Rae peeled away the dress and stripped it off to pose topless in her lacy, purple suspender belt and the black pantie thong, all visible through the layer of her sheer, nylon pantyhose.
Reclining on the sofa, Rae pushed both of her arms deep inside her pantyhose until the waistline was up to her elbows, ten moved her hands under the stretchy nylon as she caressed her thighs and the tops of her stockings.