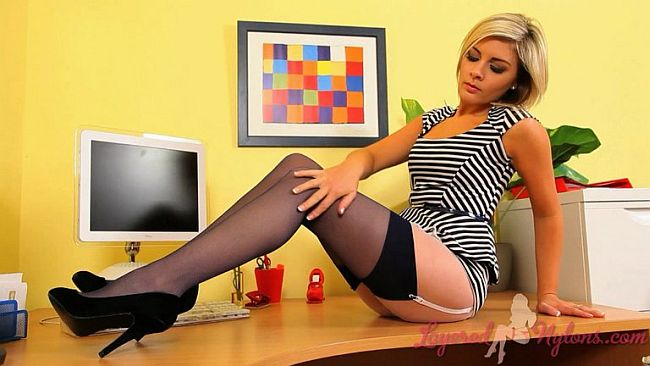 'Hi, it's Naomi. I'm working really late today because I've not met my deadlines, so I have to stay here until it's finished,' says our gorgeous blonde secretary, looking very smart in her stripped dress and black nylon hosiery.
Naomi is feeling bored, and having the office all to herself she decides to strip off down to her underwear for some amusement. After all, taking ones clothes off when no-one else is around to see, or know what your are doing, is exciting and feels so naughty!
You can tell she's done this before, teasingly lifting up her dress to reveal white lace panties under a layer of sheer nylon pantyhose. And sliding her hands down between the layers of her nylon around her thighs, causing the white suspenders to tug on the tops of her black nylon stockings.
Naomi climbs onto the desk and caresses her legs, smoothing her hands over the round cheeks of her ass, all nicely clad in her sexy lace knickers and nylon hose. She strips the dress over her head to reveal a white, underwired bra supporting her breasts, and lacy suspender belt around her waist.
Standing, Naomi slips the straps of her bra over her shoulders and holds the loose cups in place against her breasts, before finally stripping it away and posing topless in her lingerie and layers of nylon hosiery.