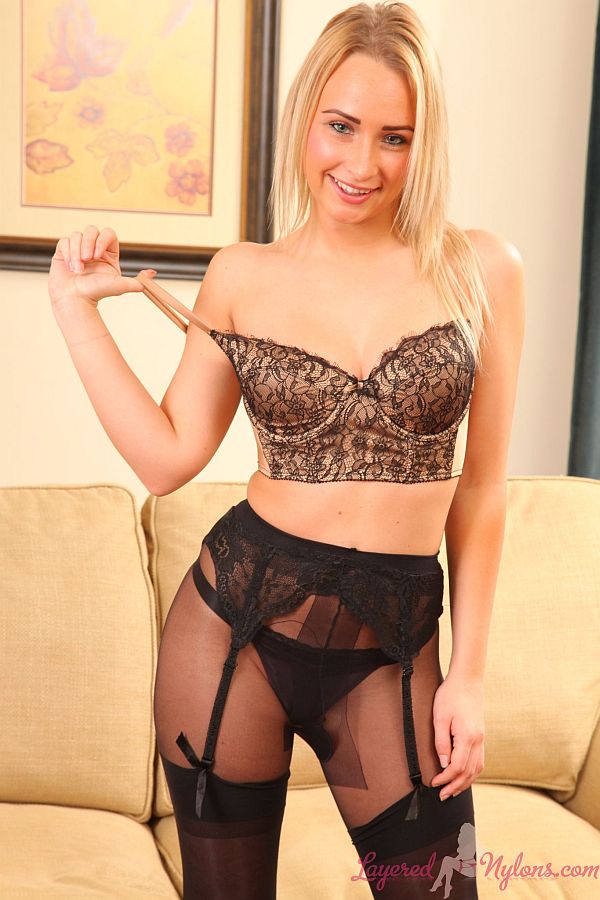 Rachel May is an enticing blonde babe who is certain to get you excited when you see her strip out of her short skirt and show off her shapely figure in black lace lingerie and layers of nylon hose…
Rachel looked fabulous as she stood and posed sideways on, dressed in a black, polo neck top, so tight fitting it clung to the shape of her boobs which thrust out from under the stretchy material.
Turning to face us, she slowly lifted up her black suede and leather skirt to reveal she was wearing black suspenders and stockings, layered over black, sheer nylon pantyhose.
Rachel lay on the sofa and stretching out her long legs, she slipped her hand between the layers of her stockings and pantyhose. Pushing her hand deep inside the leg of her nylons and along her thighs, she caused the black suspenders to stretch and pull taut on the tops of her stockings.
Rachel stripped off her top to reveal she was wearing a black lace bustier and unzipping the back of her skirt, she bent over slightly as she pulled it over the cheeks of her shapely ass encased in the sheer nylon of her hose.
We must say, Rachel's behind looked quite amazing, especially framed by her black satin, suspender-belt and suspenders, which stretched down her thighs as she moved her sexy ass in front of us.
Turning around once more, Rachel finally stripped off her bra and posed topless in her black panties, suspenders and layers of sheer nylon hosiery.