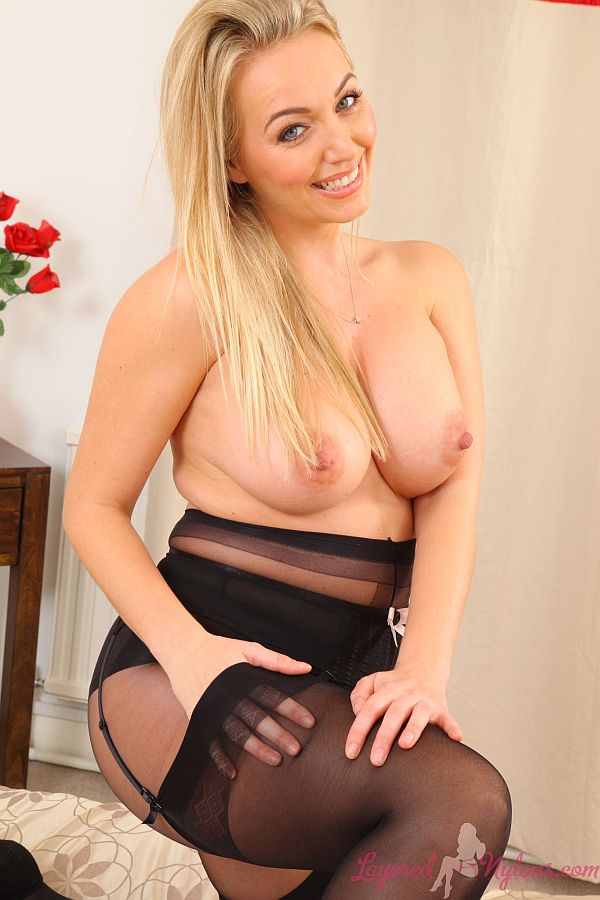 Busty blonde Hayley-Marie has curves in all the right places and looks fantastic in her lingerie and nylon. She is sure to have you drooling over her voluptuous breasts and sexy legs in her latest photo-set…
Hayley-Marie stood and lifted one leg and placed it on the metal foot rail of the bed, giving us a cheeky upskirt view of her stockings tops, black panties and the crotch of her pantyhose that stretched between her thighs.
Climbing onto the bed, she knelt with her dress pulled up around her waist, giving us a perfect view of her fabulous ass encased in black panties and nylon hose. Her black suspenders stretched around her buttocks and thighs, pulling taut on the tops of her nylon stockings, as she tilted up her nyloned ass.
Stripping off her tight fitting dress, she revealed her gorgeous all natural breasts and their thick, round nipples. Then she lay back on the bed with her legs open, giving a view of her black pantie crotch behind the tight nylon of her pantyhose gusset.
Lifting up her legs, she used each foot to slip off her stiletto heels, allowing them to dangle awhile, before slipping them off completely. Then crossing her legs at the ankles, she gave close up views of her feet and pointed her toes in their layers of black nylon hosiery.