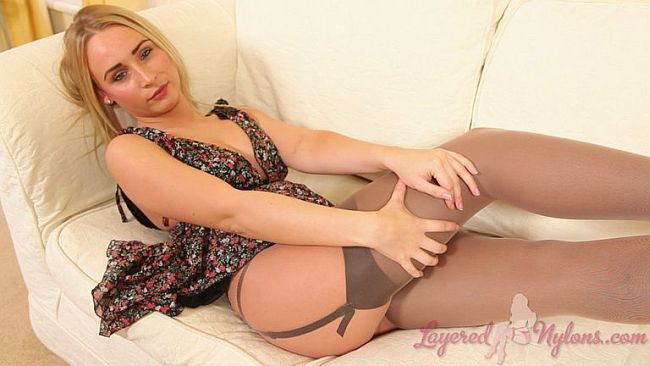 'Hi, I'm Rachel May, I hope you all like my outfit today,' said Rachel, looking very pretty in her flimsy dress and wearing some shiny nylon hose on her legs.
Rachel's dress had a low cut top and the way it floated around her figure was kind of tantalizing, the kind of dress that would easily lift in a breeze and reveal what was underneath.
Rachel's long blond hair flowed over her shoulder as she teasingly lifted the hem of the dress and reveled she was wearing a layer of shiny, beige-tan pantyhose over black suspender and stockings. Then she turned around and bent right over for a close up view of the reinforced gusset of her hose and ass, all nicely sheathed in tight, clingy nylon.
Resting on the sofa, her hands caressed her stockinged legs and moved down to her ankles, so she could slip off her shoes and display her dainty feet in their layers of nylon hosiery.
Rachel looked up coquettishly as she slipped the dress over her shoulders and revealed her perfectly formed, all natural breasts, the remainder of the dress sliding over her slender figure to the floor.
Stepping out of the dress, she leaned forward and her breasts hung down a moment as her hands brushed along her inner thighs. Then she stood in her stockinged feet and caressed her semi-naked body encased in layers of tight fitting lingerie and nylon.