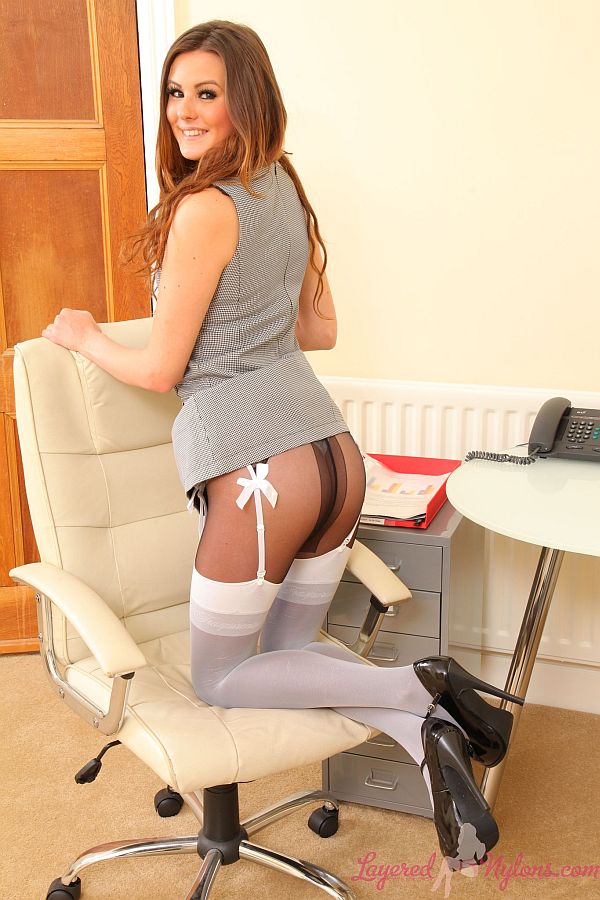 Bryony gave a knowing smile as she leaned against the edge of the desk, the tops of her white stockings showing just below the hem of her dress.
She lifted one leg and and rubbed it against the other, the nylon whispering as the surface of her stockings brushed together. Then she turned and lifted the back of her dress to give a tantalizing look at her long white suspenders, stretching  over her thighs clad in a layer of black, sheer pantyhose.
Bryony slipped off her dress, letting it slowly slide down her body and revealed she was wearing a white bra and suspender belt, plus a white lace thong under the layer of her sheer, nylon tights.
She turned to give a view of her fabulous ass encased in black nylon and her contrasting white suspenders, stretching over the curve of her buttocks and pulling taut on the tops of her white nylon stockings.
Bryony slipped the straps of her bra over her shoulders and revealed her petite, all natural breasts, then removed her heels and lay on the office floor to pose in her layers of sexy lingerie and nylon.