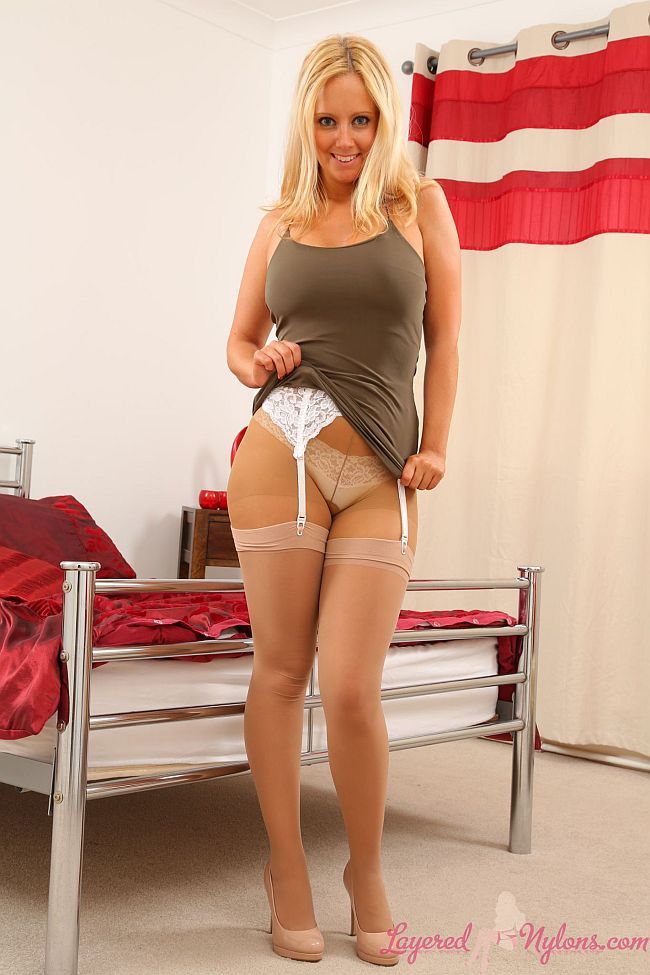 Busty blonde Rachel looks stunning as she poses and shows off her curves in her clingy dress, her legs in seamed nylon stockings, pantyhose and heels.
The points of her nipples press through through the front of her dress and she turns around to show the outline of her suspender-belt running under the tight-fitting material covering her sexy ass.
Lifting the front of the dress reveals a gorgeous white lace suspender-belt and suspenders that frame the matching pantie thong under the layer of her tan nylon tights. She pulls up the back of the dress to present her gorgeous rounded ass, sheathed in nylon; the white suspenders stretching around the curve of her buttocks pulling taut on the tops of her beige-tan seamed stockings.
Slipping off her heels, Rachel lays on her back and raises her legs to show the seam of her stockings and the black, reinforced soles of her stockinged feet.
Stripping the dress over her head, she reveals her naked, all natural breasts and tugs the waistline of her tan pantyhose around her tummy so the gusset pulls tight around the crotch of her white panties.