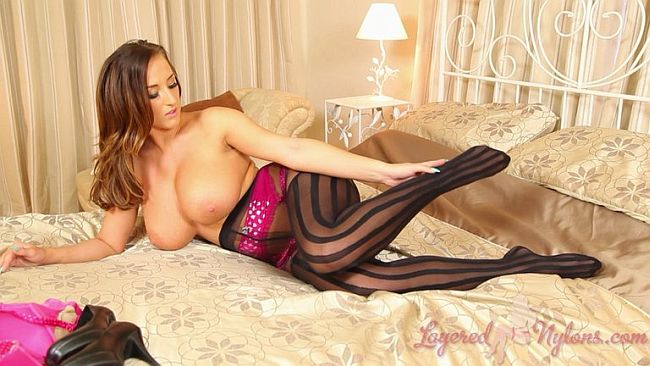 Oh, my! Stacey looks incredibly sexy as she poses in her tight-fitting top that stretches over her boobs, some bum hugging denim shorts and her shapely legs clad in black stripe patterned hosiery and leather stiletto heels.
Stacey turns to allow us to full appreciate her gorgeous ass cheeks that look so hot and sexy in those tight denim shorts. Popping the buttons at the front, she peels the shorts over her ass to reveal a pink, suspender-belt and silky panties under a layer of black, sheer-nylon pantyhose.
Stacey strips off her black top, revealing a pink bra that supports her huge breasts and gives a terrific view of her ample cleavage spilling over the side of the cups.
Posing seductively on the bed, Stacey strips away the bra and uplifts and caresses the soft flesh of her enormous tits. She runs her hands over her curvaceous body covered in lingerie, then removes her heels and reaches down to touch her feet in their layers of black nylon hosiery.