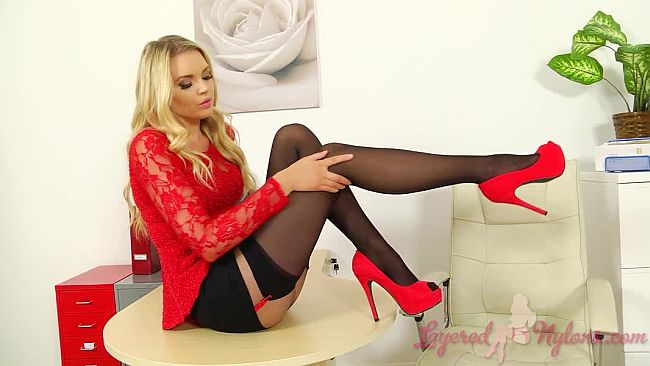 Lucious blonde secretary Porchia is dressed to perfection in a red lace top, short black skirt , black hosiery and sexy, red open-toe stiletto heels at the start of her video.
Sitting on the desk, she crosses one leg over the other and pulls her skirt back over her pantyhosed thighs, revealing the hot red suspenders attached to her stockings. Slipping her fingers between the layer of her pantyhose and the tops of her stockings, her hand strokes and feels her shapely thigh encased in sexy, black nylon.
Porchia swings around and opens her legs to give a flash of her panties under her skirt, then crossing her legs she conceals the view and winks and blows us a kiss.
Porchia stands to strips off her skirt and turns around, bending over to give a view of her ass encased in panties and nylon hose, and bounded by the red suspenders straining on the tops of her stockings.
Sitting in a chair, she rests her long legs on the desk top and slips off her heels, dangling them momentarily from her toes. Slipping off the heels completely, they fall to the floor and she curls and flexes her pretty feet and toes encased inside their black layers of nylon hose.
Porchia strips off her red lace top, followed by her bra, revealing her lovely, all natural breasts, which bounce gently as she poses topless in her sexy lingerie and layers of nylon hosiery.