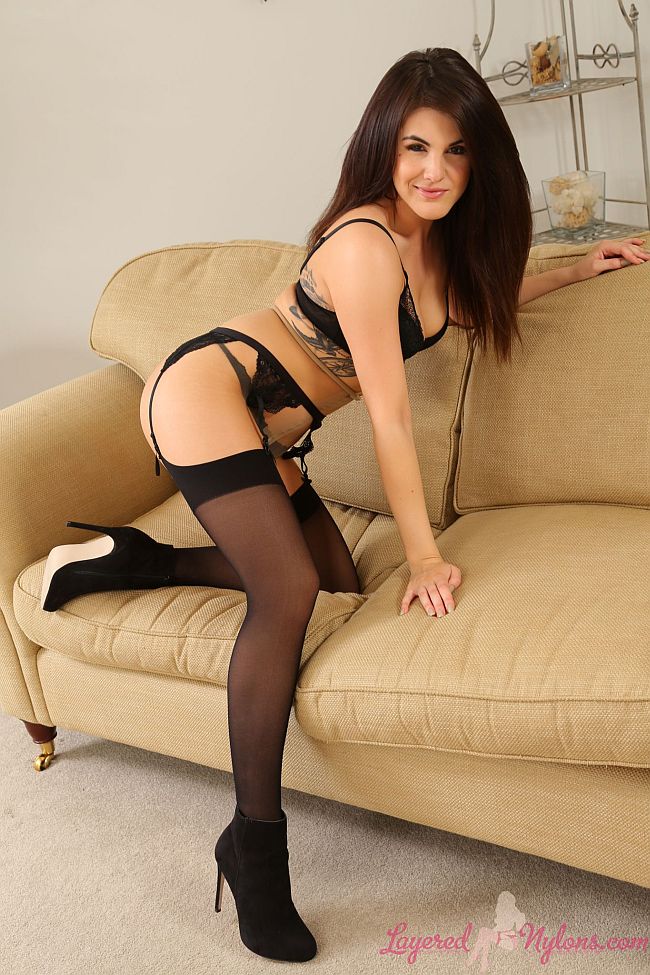 Briony's gorgeous long brunette swept over her shoulders as she looked back and gave us a naughty smile. Lifting her skirt, she revealed black suspenders attached to the tops of her stockings, layered over light-beige sheer nylon pantyhose.
Briony unzipped the skirt and pulled it over the fine layer of nylon that encased her rounded buttocks, then stripped it down her legs and stepped out of it. Standing upright, she posed in her black, lacy suspender belt and suspenders, that framed the black pantie thong under her sheer nylon tights.
Taking off her top, Briony revealed her black lace bra and stripped it away to uncover her petite, all natural breasts. She reclined on the sofa, looking relaxed as she opened her legs to show the beige oval of her pantyhose gusset stretched over the crotch of her sexy, black panties.
Briony removed her high-heel ankle boots and lifting up her legs she pointed her toes and rubbed her pretty feet together in their layers of black nylon hosiery.