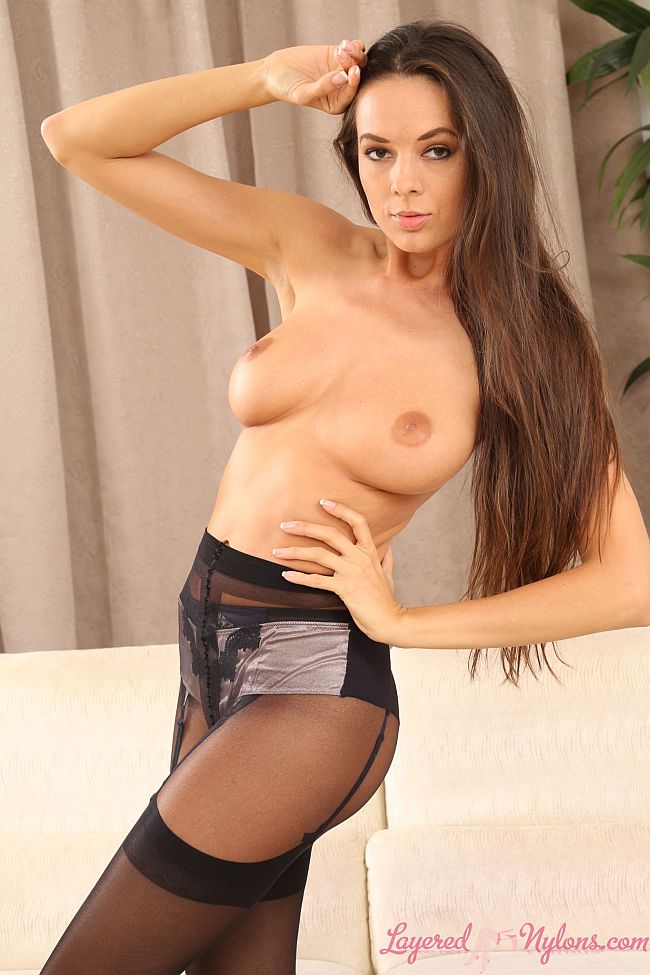 Long haired brunette Nikolart showed off her svelte figure in a close fitting long-sleeved dress which opened in front of her thighs and gave a tantalizing view of her black stocking tops.
Drawing aside the front of the dress revealed dark blue suspenders attached to stockings, worn under a layer of black, sheer nylon pantyhose. She turned and lifted the back of the dress to show the blue, shiny satin panties that covered the cheeks of her sexy ass and stood with her legs apart, swaying in her stiletto heels.
Nikolart slipped the stretchy material of the dress over her shoulders and slowly pulled it over her body, revealing a light-pink satin and navy blue lace bra that lifted her cleavage. She continued to strip the dress down her legs, bending over so the satin of her panties stretched tight around her buttocks and the suspenders strained on her stockings tops.
Nikolart lounged on the sofa and posed pin-up style in her lingerie and stockings, stretching out her legs and kicking back her stiletto heels. She stripped off the pink satin bra and reclined with her long brunette hair draped over the seat behind her and displayed her all natural breasts.
Nikolart sat upright, ran her hand down to her ankles and slipped off her stiletto heels to show her pretty feet in their layers of nylon. She got up to stand in her stockinged feet and pulled the waist of her pantyhose around her hips and posed topless in her lingerie and layers of nylon hosiery.