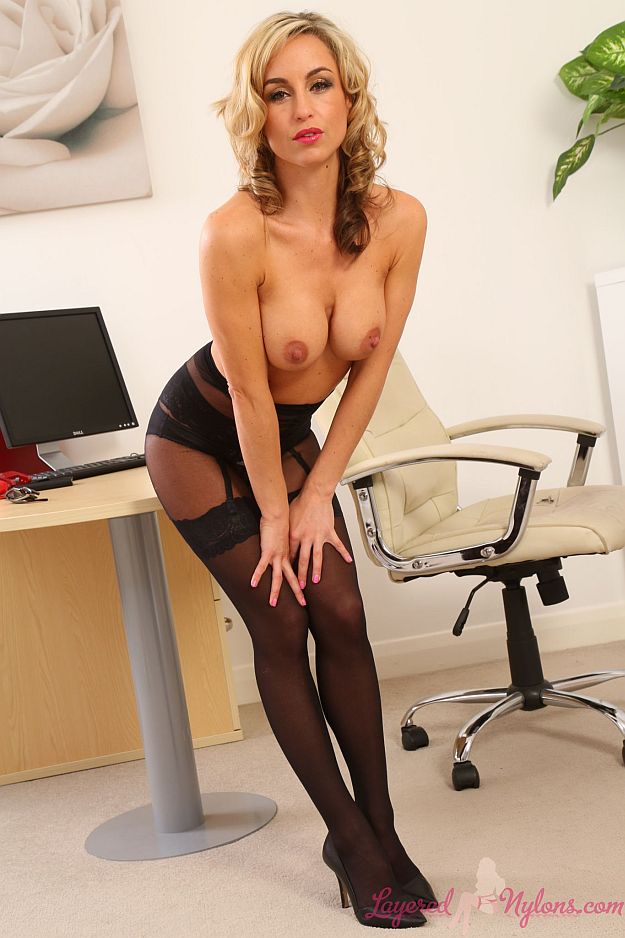 Blonde secretary Melanie stood by the desk, adjusted her glasses and looked over the rim while posing in her sexy office wear – pink shirt and short black skirt – showing off her fabulous legs in their nylon hosiery and sexy stiletto heels.
Melanie walked over to the filing cabinet and squatted and opened the lower draw, her skirt pulling back over her thighs revealing the lace tops of her black stockings. She sat on the floor with her back to the cabinet and opened her legs, giving an up-skirt view of her panties behind the gusset of her black, sheer nylon pantyhose.
Returning to stand by the desk, Melanie leaned over it and pulled down her skirt to reveal the black lace of her full-back panties covering the cheeks of her sexy bum. She stripped off the skirt and sat in the chair unbuttoning the front of her shirt and uncovering the pink satin and black lace bra that matched her panties.
Melanie slipped the straps of her bra over her shoulders, then released the catch at the back to strip it away and expose her all natural breasts. She looked up and smiled as she pressed her arms against the sides of her boobs, pushing them together and lifting her ample cleavage.
Melanie picked up her sexy glasses and put them on and getting up form the chair she showed off her fabulous tits while posing in her suspenders, panties, stockings and pantyhose layers.