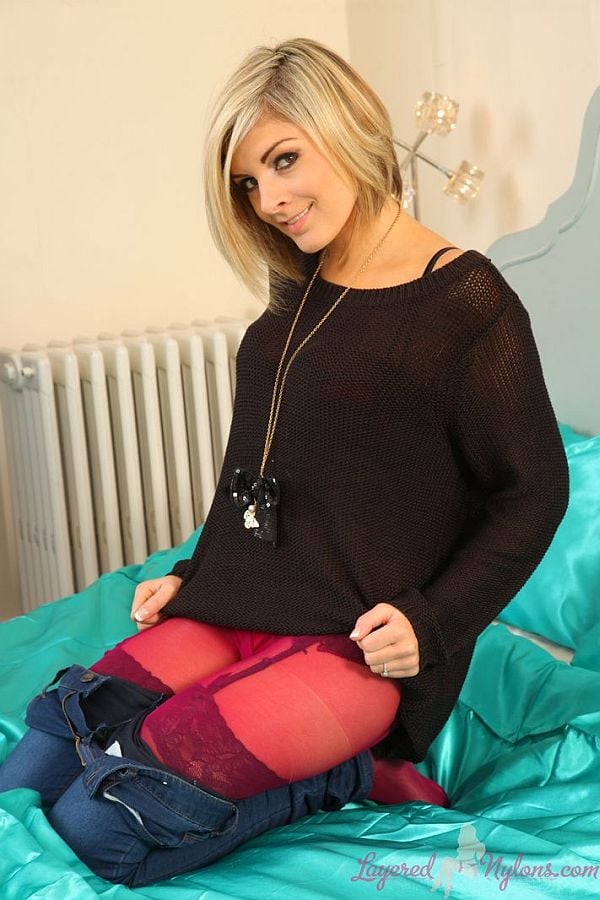 Naomi K rested on one arm as she lay on the bed looking very appealing in her blue jeans, red coloured pantyhose and black patent leather heels.
Kicking off her shoes she lifted her legs and pointed her pretty feet in their layer of hose, then unzipped her jeans and pulled them down to her thighs to reveal she was wearing black lace top stockings and lacy suspender belt under her layer of red berry coloured pantyhose.
Removing her jeans she lay and stretched her legs over the bed to offer close up views of the soles of her feet cocooned in their nylon layers, then stood on her tiptoes and lifted her black top over her head to reveal the red satin and black lace bra that supported her breasts.
Kneeling on the turquoise blue bedsheets she pulled down her pantyhose and uncovered her red satin full back panties panties and black suspenders which were attached to the pretty tops of her lacy black stockings.
Naomi pulled her pantyhose back up over her lingerie, then slipping off her bra she posed topless in several positions to give views of her slender legs and ass in their layers of tight fitting nylon.