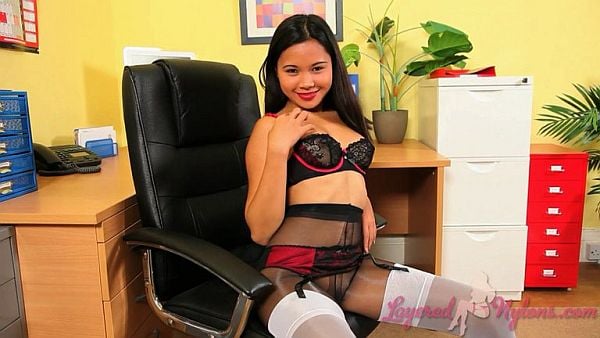 'Hi guys, I'm Jasmin and I hope you like my video,' said our cute Filipina as she stood in the office dressed in a tight, short black skirt, below which her white stocking tops were clearly visible around her thighs encased in shiny black pantyhose.
Jasmine sat in the office chair and opened her legs for an upskirt view of her stocking tops and shiny pantyhose crotch under which she was sans panties. She slowly unzipped the front of her skirt and opened it up to reveal she was wearing a red and black garter belt with black suspedners which framed the area of her pantyhose gusset.
Unbuttoning her white shirt revealed her waist high black pantyhose and red and black lacy bra matching her garterbelt, then she slipped the straps over her shoulders and smiled as she teased out of it to uncover her petite breasts with their brown bud like nipples.
Jasmin stood and turned to kneel in the chair, offering a view of her cute ass sheathed in shiny black pantyhose and the black suspenders that stretched over her buttocks and pulled on the tops of her white nylon stockings that were layered over her shapely legs.