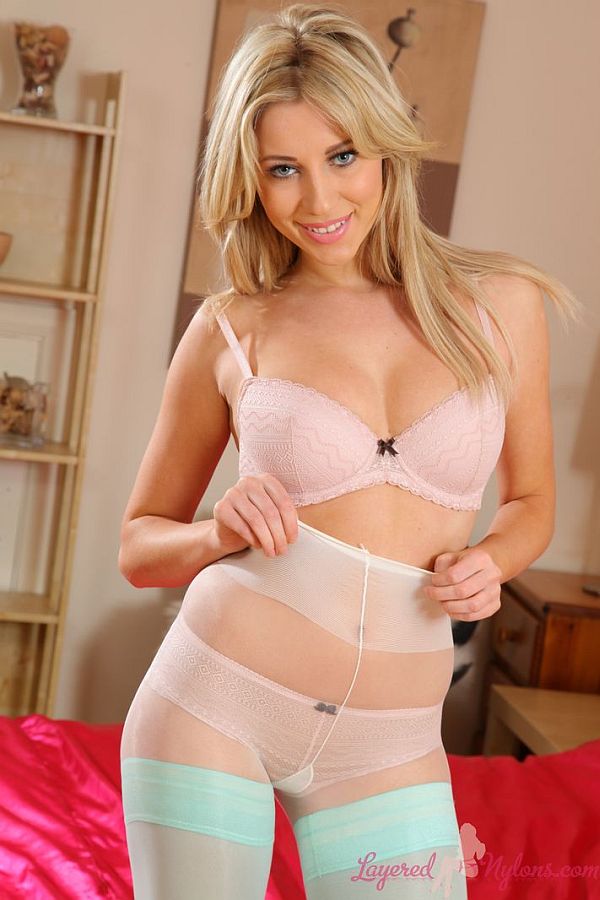 Leggy blonde Bianca looked very smart in her new spring outfit and lifted the back of her white dress to show she was wearing a layer of sheer nylon pantyhose over lace panties and some 'powder blue' hold-up stockings.
Bianca's legs looked so long and shapely as she stood in her heels, giving us a view of her perfect ass clad in creamy white, shiny nylon pantyhose and intricately patterned lace panties that fitted so snugly around the cheeks of her bum.
Unzipping the back of her dress, she pulled it down and uncovered the pink lacy under-wired bra underneath,then easing the dress over her pantyhosed ass she let it slip down her legs to remove it.
Looking back over her shoulder she pushed her hands down the rear of her pantyhose and spread her fingers over the cheeks of her pantied ass, then rolled her hose down until they were stretched around her stockinged thighs.
She knelt on the bed to offer a view of her ass in her cute lace panties and pushed her hands even further down the legs of her pantyhose, then pulled them back up around her waist.
Reaching behind her back she unclasped her pink bra to remove it and revealed her all natural breasts with their small nipples, then posed topless as she stood with her pantyhose pulled down and stretched once more around her thighs.