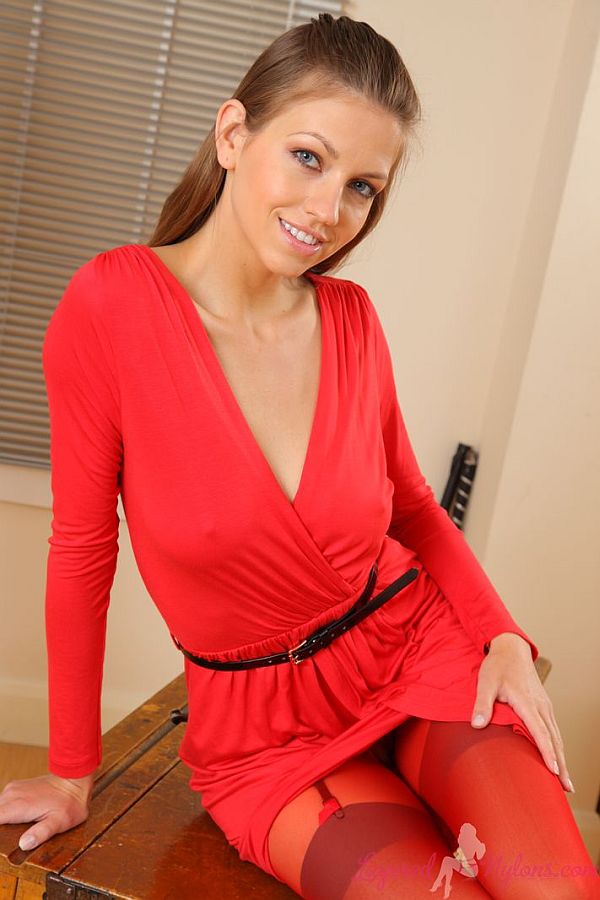 Eufrat is the lady in the layer of red pantyhose and black stockings who has a special surprise under her dress in this photo set at Layered-Nylons.
Eufrat sat on the top of the desk with her slender legs crossed and smiled as she shifted the edge of her dress up her thighs to reveal she was wearing a layer of red hose over black stockings and suspenders.
She shifted slightly and raised her ass off the desk and revealed that the back of her pantyhose had a slight oval opening, so that the flesh of her buttocks were partly exposed at the rear.
Climbing off the desk she sat down in a chair and slowly opened her legs to show the open crotch of her pantyhose under which she was sans panties.
Eufrat slipped the loose fitting dress over her shoulder to uncover her all natural breasts with their soft brown aureoles, then stripped the dress away and posed topless in her lingerie and waist high, sheer nylon pantyhose.
Laying sideways on the desk once more she pulled at the rear of her pantyhose crotch and stretched it over her naked buttocks as far as it would go to allow the flesh to poke through.
She then stood and pulled her pantyhose down to give a view of her naked ass and the thin black suspenders framing the cleft of her buttocks as they stretched down to the tops of her black nylon stockings.