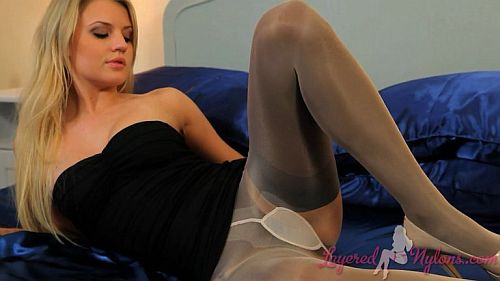 'Hi boys, I hope you like this little dress I'm wearing today and enjoy my striptease,' says gorgeous English blonde Naomi, who looks like she's dressed to go to a party in a sexy black dress, shiny nylons and heels.
Naomi's legs shimmer with bands of light which shine over the surface of her layer of beige pantyhose and black stockings. Turning around to give us a view of her outfit, she lifts the hem of her dress to reveal she is wearing black panties and suspenders under the sheer to waist hose.
Naomi reclines on the bed and runs her hands over her silky, shiny nylons, opening her legs to give a view of the reinforced area of her pantyhose gusset. She then slips off her heels and offers them up for close inspection as she touches and massages her nyloned feet.
Her pantyhosed legs swish against the blue satin sheets as she moves into a kneeling position and lowers the top of her black dress to uncover her naked boobs.
Laying back against the cool sheets she lifts her buttocks and slides the dress down her legs to remove it. Then lifting her shapely legs in the air she moves her hands up the back of her nyloned thighs. Rubbing her legs together she then pulls on the waistband of her tights and stretches them up her naked belly.
See gorgeous blonde Naomi teasing in her shiny pantyhose, nylon stockings and panties in this video at Layered-Nylons.