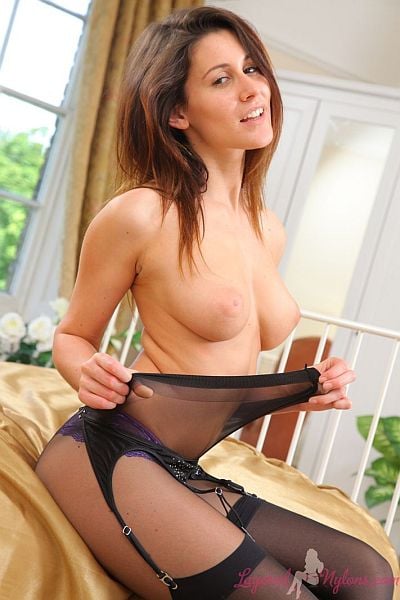 Ulrika smiles and lifts her arm to to comb back her long brunette hair as she reclines on the bed displaying her long legs in layers of black shiny nylon.
Wearing a purple satin camisole she then kneels with her legs apart and long thin, black suspenders with metal clasps stretch downwards from under her slip to the tops of her black stockings, which are layered over sheer nylon pantyhose.
Ulrika removes her camisole and poses topless in her wispy, black suspender belt, purple panties and stockings, then pulls on the waistband of her pantyhose and stretches it almost up to the level of her naked breasts.
Sitting on the edge of the bed, she hooks her thumb under the straps of her garter-belt and pulls them outwards, putting a strain on the tops of her stockings. She then grabs her pantyhose and stretches them upwards in one direction, while grabbing her stocking tops and pulling them out and downwards.
Ulrika puts on a very exciting and teasing display as she constantly plays with her layers of nylon pantyhose and stockings, pulling and stretching them in various ways in this 129 image photo set at Layered-Nylons.