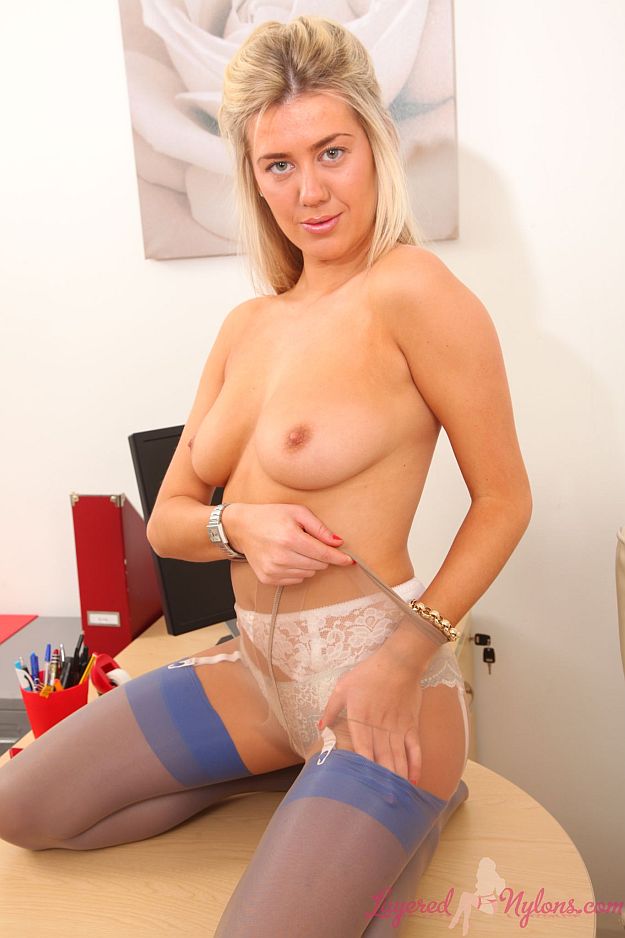 Blonde secretary Minnie turned up at the office looking quite retro in her white pussy bow blouse, a floral mini-skirt and patent black leather court shoes.
Minnie smiled and pouted as she sat on the desk with one leg crossed over the other, the shortness of her skirt revealing the top of her blue stockings around her thighs.
Standing by the desk, Minnie slowly raised her skirt to give a tantalizing view of her pale lace panties, suspenders and stockings under a layer of beige-tan sheer nylon pantyhose. She turned and teased the skirt up and over the cheeks of her ass clad in lacy knickers and sheathed in nylon hose. Then looked over her shoulder as she stuck out her ass and her white suspenders stretched around her buttocks and pulled on the tops of her blue nylon stockings.
Minnie untied the sash bow around her neck and removed her blouse to reveal the pale blue lace bra that matched her panties. She unzipped the front of her skirt and stripped it away and placed her hands around her hips while posing in her lacy lingerie, stockings and pantyhose.
Stripping off her bra, Minnie pulled the waist of her pantyhose right up her tummy and the beige-tan gusset stretched tight around the crotch of her lacy panties. Then relaxing in the chair, she lifted her legs onto the desktop and slipped off her heels to display her pretty feet in their layers of nylon hosiery.