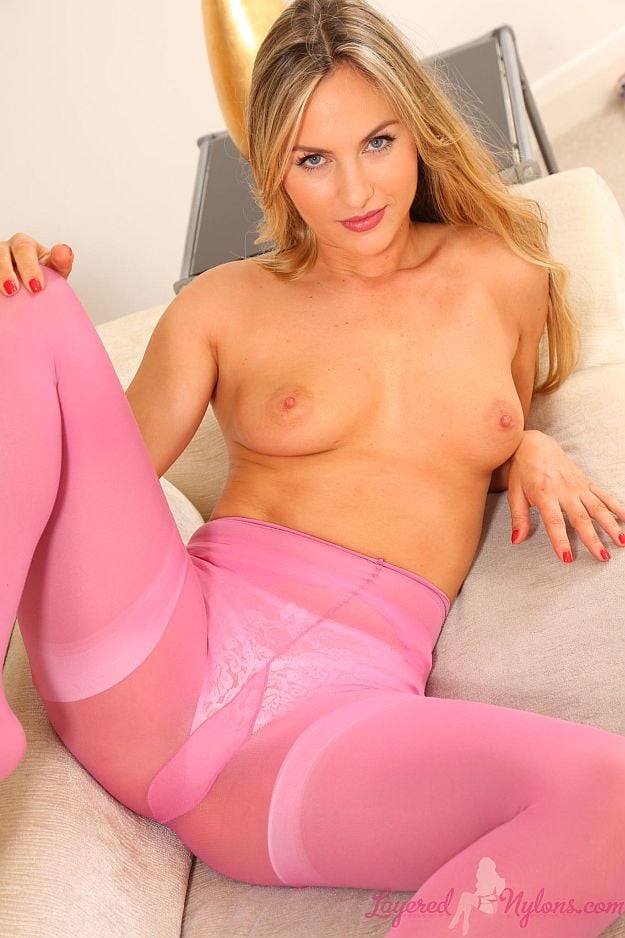 Natasha Anastasia looked gorgeous, her long blonde hair flowing over her shoulders as she posed on the sofa in her floral dress. Uncrossing her legs, she gave a view up her dress at the white lace panties and stockings, under the layer of her pink, sheer nylon pantyhose.
Natasha stood and lifted the front of the dress, pulling up her pink hose so the gusset stretched tight around the crotch of her lace panties. She pushed her hand down the inside front of her hose and her fingers caressed the pink lace of her suspender-belt and the waist of her panties.
Natasha crossed her arms and grabbed the sides of the dress, lifting it slightly to reveal her fabulous rounded buttocks clad in lace panties and sheathed in the pink nylon of her tights. She stripped off the dress and turned to reveal her all natural breasts while posing topless in her lacy lingerie and layers of nylon hosiery.
Natasha knelt on the sofa and pushed her hands down the back of her pantyhose, her palms spread over her buttocks and the taut suspenders that strained on the tops of her white nylon stockings. Then slipping off her heels, she lay on her back and lifted her shapely legs and rubbed her pretty feet together in their layers of pink and white nylon hosiery.