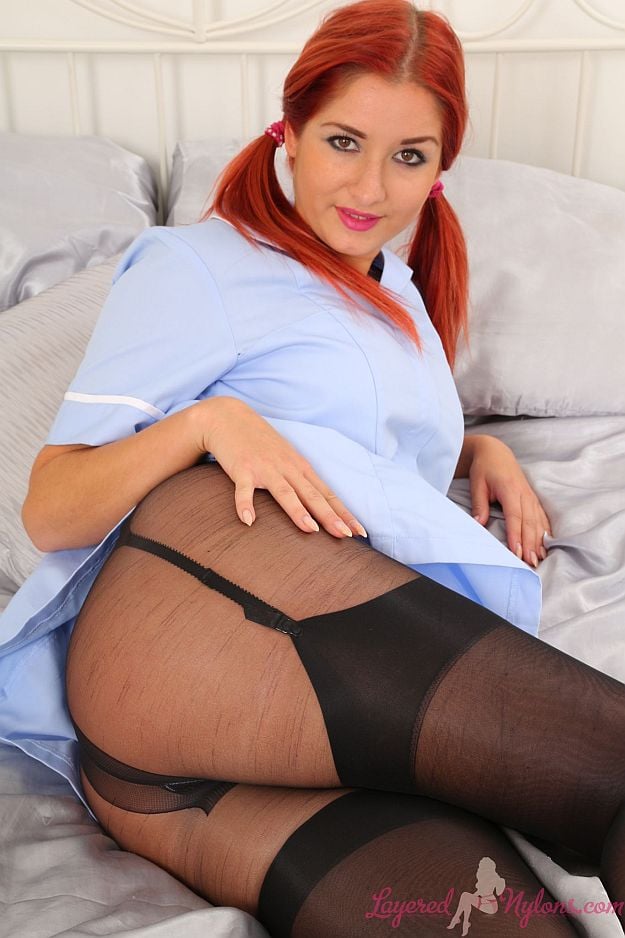 Nurse Harley is here to cheer you up by stripping off her crisp blue uniform and teasing in her layers of black hosiery in her latest photo-set at Layered-Nylons.
Harley sat on the bed and slowly pulled back the hem of her blue tunic, revealing her curvaceous thighs clad in black suspenders and stockings under a layer of sheer nylon pantyhose.
Laying on her back, Harley swung her legs high and held them close together, crossing her ankles and showing off her white stiletto heels. She stroked her shapely legs and her black suspenders stretched taut across her thighs and strained on the tops of her nylon stockings.
Harley sat and pulled open the front on her nurses tunic to reveal the black bra underneath. She took off her heels and lay back on the bed, raising her legs high to show her nylon clad feet and point her toes inside their layers of black hosiery.
Harley stood to strip off her uniform, then pushed her arm down the inside of her pantyhose and her fingers caressed the flesh of her thigh and tops of her stockings.
Stripping off the bra, Harley lifted her hands to tug on the braids of her hair and her forearms squeezed the mounds of her tits together so they looked bigger. She held the waist of her pantyhose and pulled it up, causing the gusset to stretch tight around the crotch of her black, sheer nylon panties.