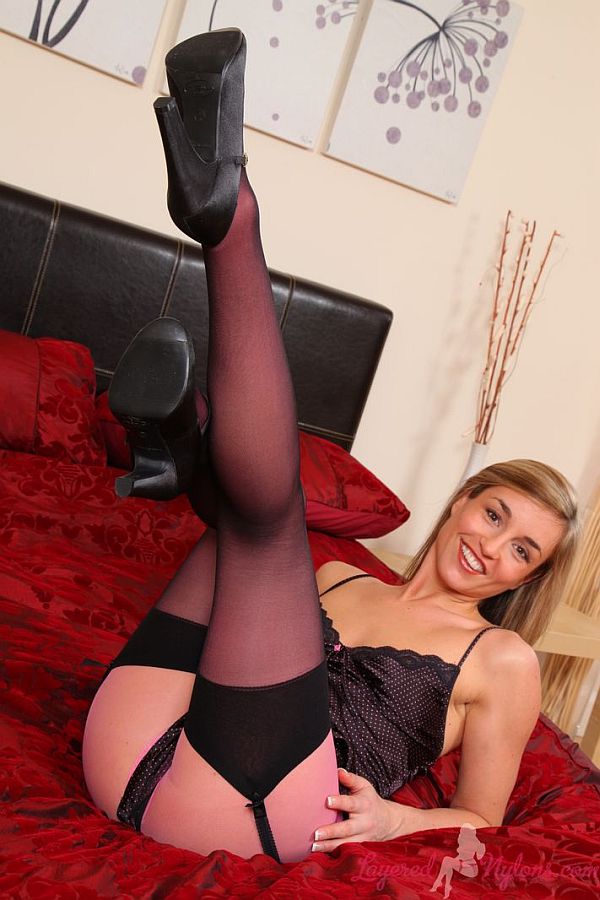 Melanie looked ready for an evening of relaxation in her silky camisole and black nylon stockings which covered her slender legs as she stood and posed by the bed. She was wearing a layer of pink pantyhose that encased the top of her thighs, which caused her black nylon stockings and suspenders to stand out in contrast against her thighs.
Melanie sat on the edge of the bed and slipped off her heels, positioning her stockinged feet so that they were on tiptoes, then pulled the crotch of her camisole to one side to show she was wearing some panties behind the pink gusset patch of her sheer nylon pantyhose.
Giving one of her sunny smiles, she slipped the top of her camisole over her shoulders and uncovered her naked breasts with their thick, pink nipples. She then pulled the camisole over her slender figure and down her legs to the floor, then lay on the bed to offer views of the soles of her feet in their layers of nylon.
Melanie knelt on the bed to give a rear view of her ass sheathed in pink, sheer nylon pantyhose and the black suspenders that stretched around her buttocks to her stocking tops. She then pushed both of her hands down the back of her tights and gripped the cheeks of her ass with her fingers pressing into the flesh under the stretchy layer of her sheer nylon hose.