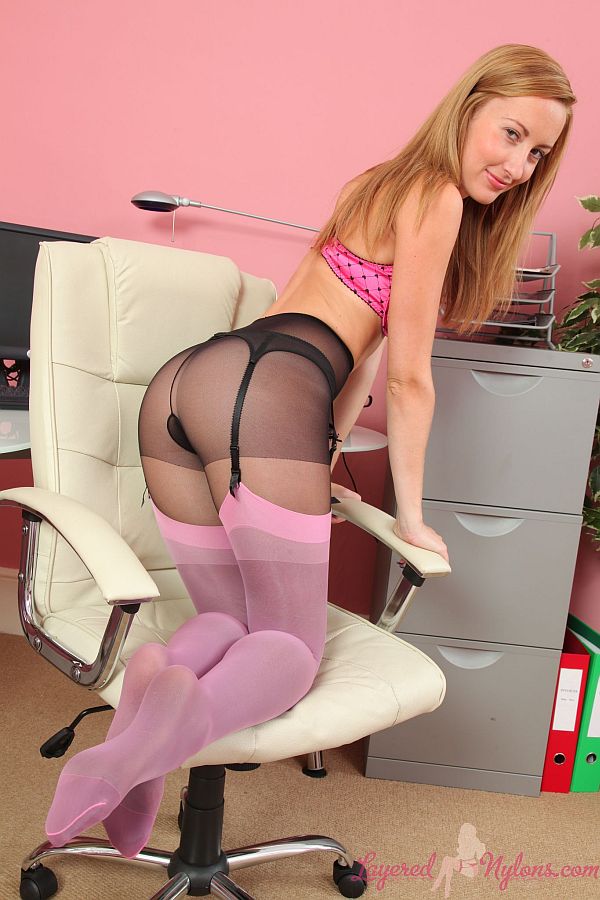 Sophia Smith knows how to please the guys in the office by wearing a skirt that's short enough to give them a glimpses of her sexy stockings tops.
'It is a bit short, isn't it!' she laughed and lifted the hem of her skirt up her thigh to show us she was wearing pink nylon stockings layered over the top of black, sheer nylon pantyhose.
Pulling the skirt up even higher revealed she was sans panties under her sheer to waist pantyhose which clung to the curves of her hips and thighs. She then turned for a view of her ass sheathed in her black tights and the long, black suspenders stretching over her nyloned buttocks to the tops of her pink stockings.
Sophia eased her skirt over her ass and let it slide down her legs to the floor, then unzipped her top at the back and pulled it open to reveal she was wearing a satin pink bra with a black lace trim.
Sitting in the swivel chair she slipped off her heels and lifted up her legs together to offer close up views of her nyloned toes and the soles of her feet in their layer of pink stockings. She then unhooked her bra and slipped it down her slender arms to uncover her petite all natural breasts.
Sophia stood in her stocking tiptoes and then knelt in the chair as she posed topless and present us with more views of her ass and feet in their layers of nylon.