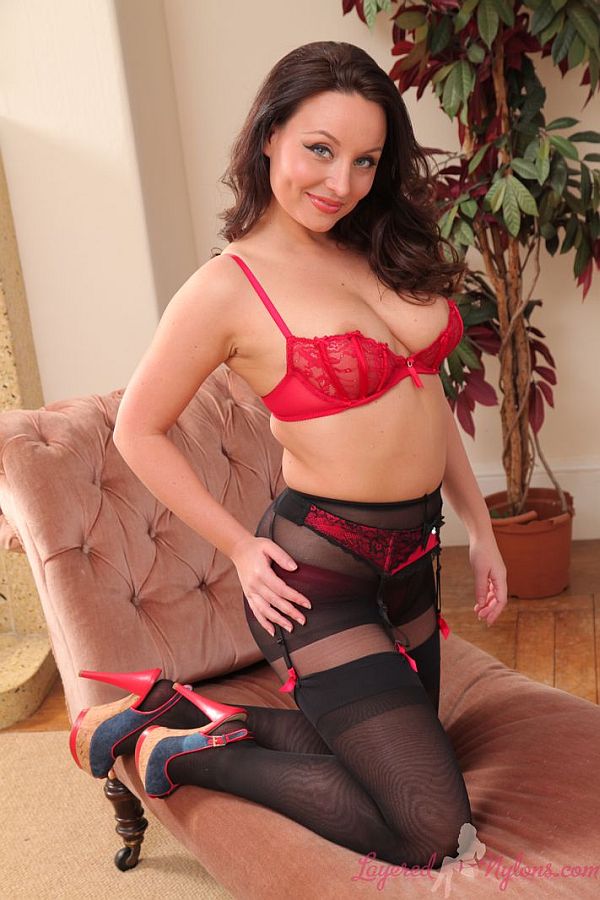 Carla was looking fabulous in her tight red top and short black skirt, her shapely legs encased in layers of black nylon stockings over pantyhose as she stood posing in her heels.
Sitting on the couch she gave one of her mischievous grins as she opened her legs slightly, giving a view up her skirt at the sexy red panties she was wearing beneath her layer of sheer black tights.
Carla stood once more and lifted the back of her tight, fitting skirt to show off her oh so sexy thighs and ass sheathed in black nylon. She leaned forward so the taut black suspenders that stretched down to the tops of her stockings under her pantyhose pulled tightly on the tops of her stockings.
Stripping off her top revealed she was wearing a very saucy, half-cup bra and she pressed the side of her arms against her breasts to offer a view of her voluptuous cleavage. Slipping the straps of the bra over her shoulders, she reached round to unclasp it and then stripping it away she cupped her breasts in her hands and gave them a squeeze.
Carla unzipped her skirt and pulled in down her legs and gave her ass a wiggle as it slipped down her nyloned legs to the floor. She settled on the couch and removed her heels, then lay back to offer views of her red panties covering her crotch behind the nylon screen of her hose and her petite feet in their layers of stockings and pantyhose.