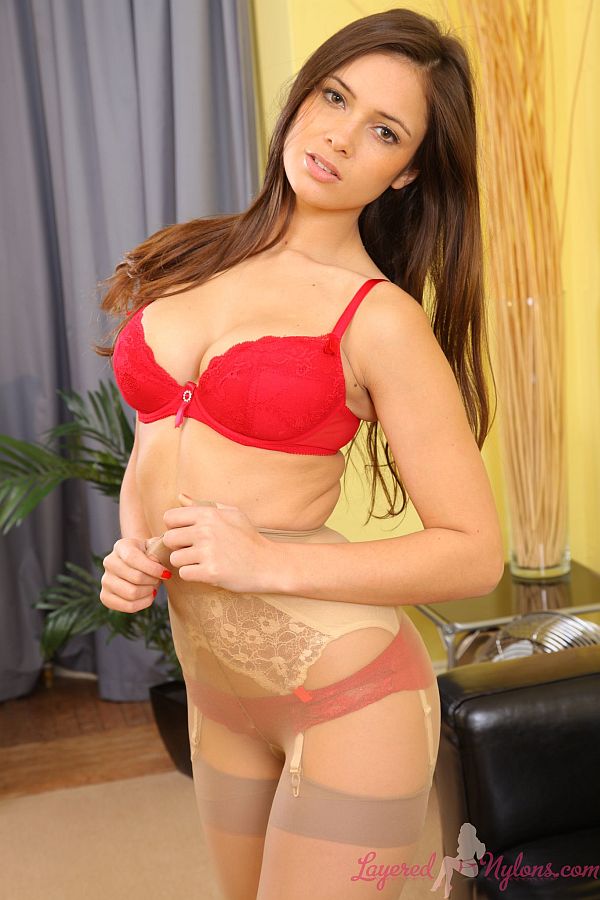 Louisa Marie's long brunette hair framed her pretty face and fell over the shoulders as she stood and posed for us in a red dress and tan nylons which looked so smooth on her legs.
A faint smile curled at the edges of her lips as she slowly lifted the hem of her dress and revealed she was wearing a layer of sheer nylon pantyhose, over cream coloured suspenders attached to tan nylon stockings.
Louisa Marie unbuckled the belt around her waist and pulled the front of her dress open to show she had on a red bra underneath. Allowing the dress to slide down her body revealed she was wearing a pretty lace garterbelt around her waist and red French knickers under her layer of tan, sheer nylon tights.
Posing in her lingerie, she hooked her thumbs into the front of her pantyhose, then stretched and pulled them up around her waist and pushed out her beasts in their red uplift bra.
Louisa Marie reclined on the leather sofa and slipped off her shoes, then stretched out her nyloned legs to present close up views of her pretty feet encased in layers of tanned nylon stockings and pantyhose.