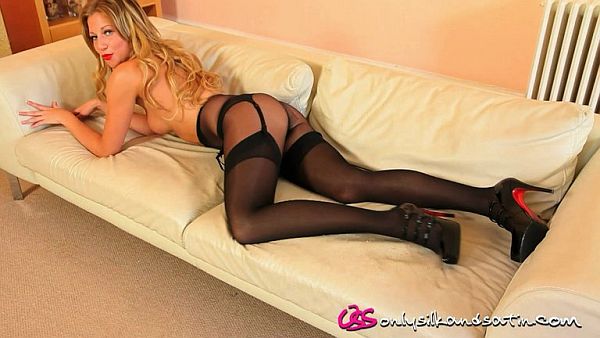 Bianca parted the folds of her lose fitting red dress at the front, pulling it high above her waist to reveal she was wearing a black suspender belt and stockings, over sheer to waist nylon pantyhose.
She swayed her hips, moving and turning to give us a view of her fabulous ass sheathed in shiny black nylon and a pantie thong, under a layer of taut suspenders that stretched over the curve of her buttocks and pulled on the tops of her nylons.
Bianca shook her head from side to side and loosened her long flowing hair as she pulled down the shoulders and front of the dress to reveal her smooth skinned, all natural breasts. Her hands moved around her neck and over her chest, then reached down to untie the loose fabric around her waist and allowed the dress to slide down her nyloned legs.
Her long slender legs looked spectacular in shiny black nylon as she paraded around in her patent leather stiletto heels, then sprawling on the sofa she presented views of her sexy ass encased in black suspenders and clingy nylon pantyhose.
Bianca got up to stand and pose topless, turning to show off her curvaceous figure in waist high pantyhose and her long legs in their layers of black shiny nylon and heels.