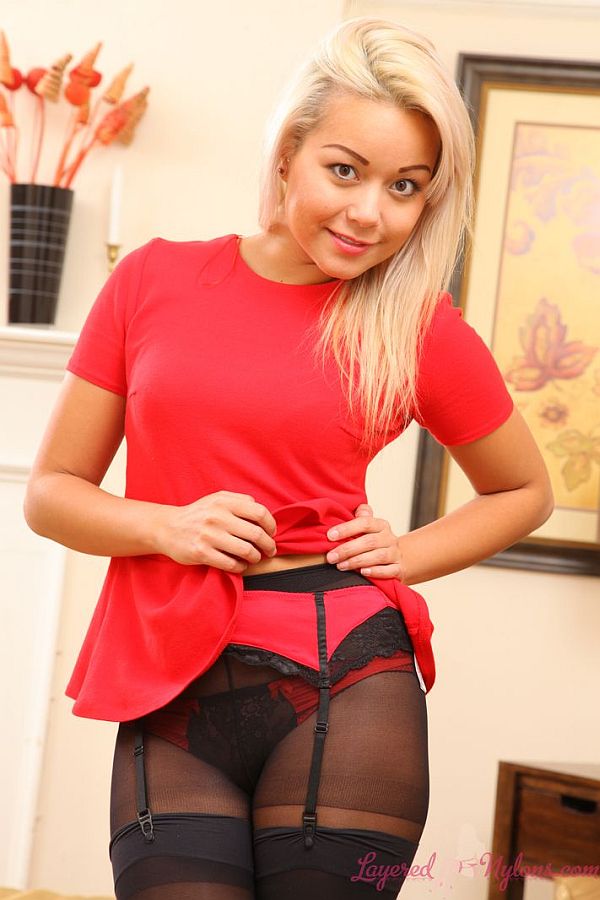 Lilly's legs were clad in black nylon and it looked like she wasn't wearing any layers of pantyhose or stockings on first appearance.
It wasn't until she lay on the bed and pulled her skirt up the side of her thigh, did she reveal that she was wearing black stockings and suspenders over sheer nylon tights.
Lifting her legs up together, she swung them at the knee so her stiletto heels where pointing at the ceiling, causing the black suspenders to stretch over the back of her thighs and pull taut on the tops of her black nylon stockings.
She then knelt on the bed and stripping off her top revealed she was wearing a red and black bra, matching suspender belt and some very sexy, black lace panties with a red satin crotch under her sheer to waist nylon pantyhose.
Lily spread herself over the golden coloured satin bed sheets and slowly, teased the straps of her bra over her shoulders, then removed it completely. Laying in her contrasting black and red lingerie, she posed topless and offered more views of her ass and legs sheathed in their layers of nylon pantyhose and stockings.