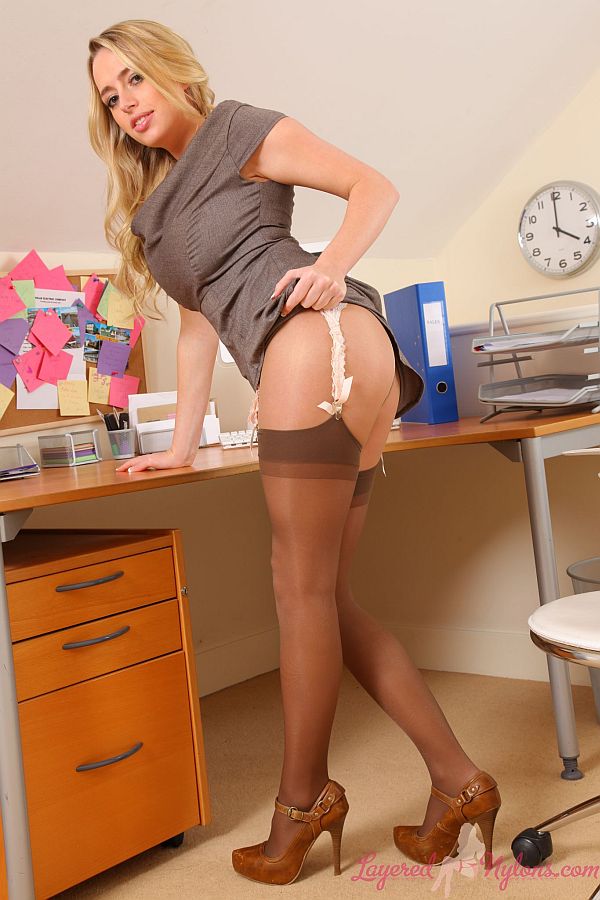 Secretary Holly stood by the desk and leaned slightly forward as she lifted up the side of her dress to reveal she was wearing dark tan stockings and lacy suspenders over beige nylon pantyhose.
Her shapely legs looked perfect in their combo layers of nylon which shone with an iridescent sheen, the beige nylon of her hose contrasting against her lacy suspenders as they stretched and pulled taut on the tops of her tan nylon stockings.
Lifting the front of her dress revealed she was sans panties under her sheer nylon tights which clung to the contours of her hips and crotch, all nicely framed by the retro-looking suspenders stretching down her thighs to her nylon stockings.
Holly stripped out of her dress, pulling it downwards to uncover her sumptuous, all natural breasts, then let it slide down her legs and fall to the floor. She posed topless with her arms folded under the mounds of her breasts and then pushed her hands down the inside of her pantyhose and the tops of her nylon stockings.
Sitting on the desk she unbuckled her heels and slipped them off to offer some close up views of her feet in their layers of nylon, then stood and pulled her pantyhose up until they were stretched around her lovely boobs.