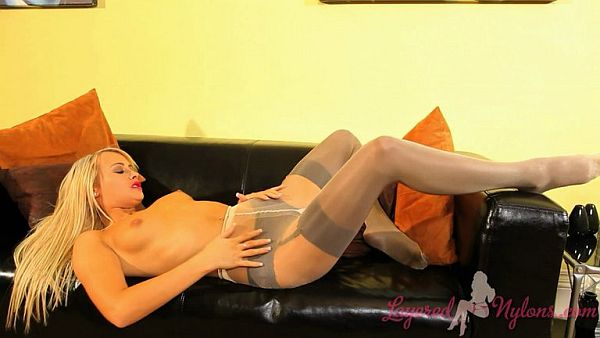 Kelli Smith looked gorgeous in her incredibly tight fitting blue dress that clung to the contours of her shapely figure as she stood and posed in her heels.
Her hands made a slight rustling sound as she moved them over the woven silk of her dress and then down to her legs on which she was wearing shiny, beige coloured nylon pantyhose layered over stockings.
Kelli ran her fingers just under the hem of her dress and then turned around to tease it upwards, giving a tantalizing glimpse of her lacy black panties, suspenders and stockings tops under the layer of her shiny nylon tights.
Sitting on the leather sofa she crossed her slender legs and brushed her hands over the smooth surface of her silky nylon layers. She then lay on her side and pulled up the back of her tight fitting dress and reached round to feel the outline of her suspenders through the clingy nylon that encased her fabulous ass.
Kelli pulled her dress over her head to uncover her petite, all natural breasts and gently brushed her fingers over the raised nipples, then having slipped of her heels she stretched out on the sofa and pushed her hands down the inside of her hose to feel the tops of her shiny, nylon stockings.