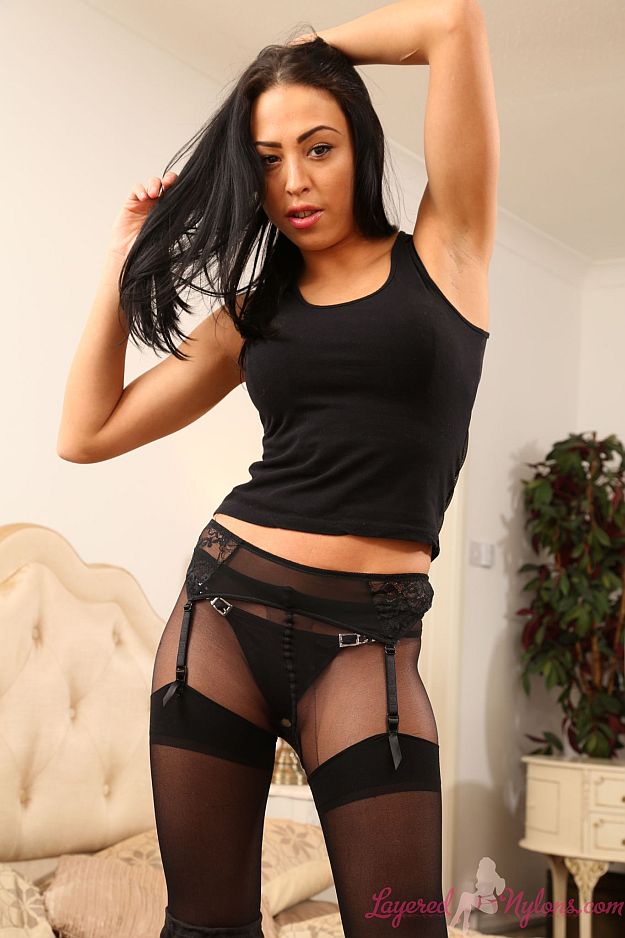 Layla May looked so sexy while she posed in her leather jacket, short plaid skirt, her legs clad in black nylon hose and sexy knee-high leather boots.
Layla gave a gorgeous smile as one hand lifted her 'flirty skirt' and revealed black suspenders and stockings layered over her nylon pantyhose. Removing the jacket, she unzipped the skirt and it slipped down her nylon clad legs and dropped to the floor around her boots.
Stepping out of the skirt, she ran her hand through her long black hair and posed in her incredibly sexy combination of pantie thong, suspender-belt and layers of nylon hosiery. She stripped the top over her head, revealing a black, half-cup bra that gave a view of her cleavage.
Layla unzipped her sexy suede boots, then laying face down on the bed she swung her legs back at the knees and pointed her pretty feet in their layers of black nylon. Getting up to stand in her stockinged feet, she stripped off the black bra and exposed her lovely natural breasts while posing topless in her suspenders, panties and layers of nylon hosiery.