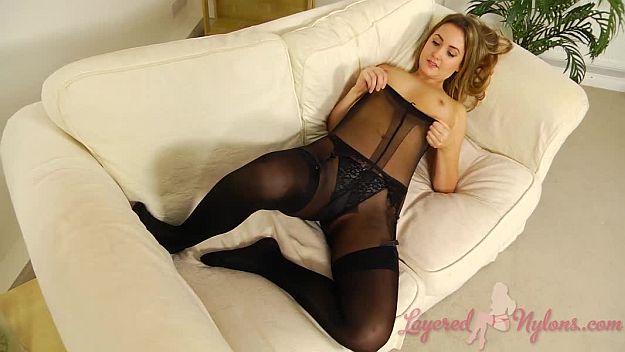 'Hi guys, my name is Catherine and welcome to my video,' said our delectable blonde babe as she posed for us at the start of her shoot. 'I've got a nice evening dress on for you today,' she said, turning around to show us her beautiful curves that were nicely enhanced by her tight fitting, open-back dress.
Catherine snaked her hips as she turned and ran her hands over her body in that sexy dress, the outlines of her suspenders showing under the thin material the clung to her ass and thighs.
'As you can see I have a couple of layers underneath here, all wrapped up nice and warm,' she said, as she reclined on the sofa, stretched out her legs and pulled back the hem of her dress.
Catherine took off her heels and shifted into a kneeling position, then pulled up the back of the dress to show her shapley ass all nicely covered in her tight fitting hosiery. Her fingers slipped under the straps of her suspenders that stretched over her buttocks, and pushed them outward so they tugged on the tops of her black nylon stockings.
Catherine stood in her stockinged feet and stripped the dress over her head, revealing her naked all natural breasts and posed for us in some delightful positions in her black suspenders, panties and layer of nylon hosiery.