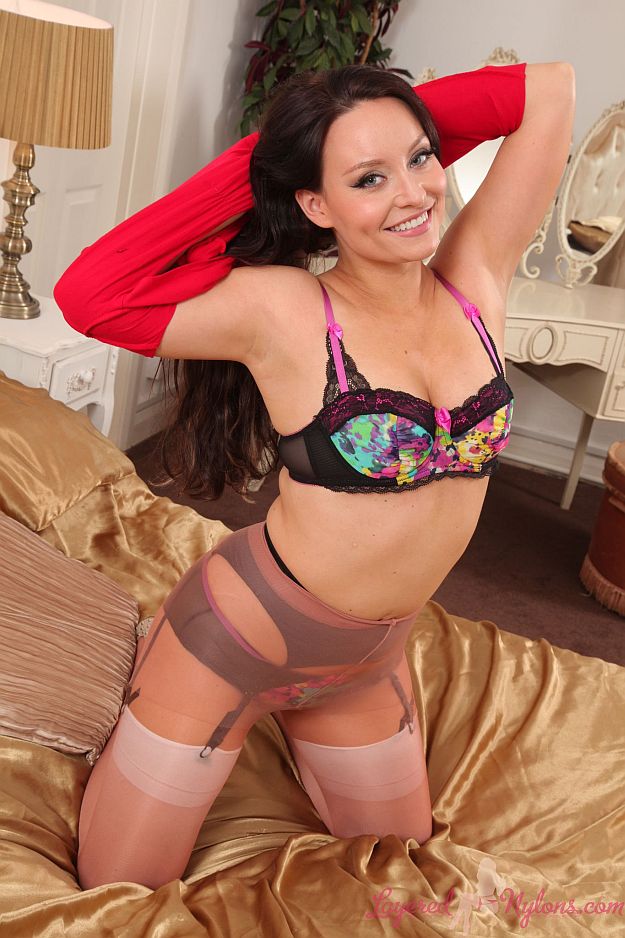 Carla dressed very casual in a red top and short, faded denim skirt that barely covered her thighs and gave a view of the light-beige tops of her stockings.
Reclining on the bed, Carla gave a sexy smile as she slowly opened her legs to reveal the crotch of her multicolored panties under a layer of pink-beige sheer nylon pantyhose. She lay back and swung her legs upward, keeping them close together and crossed at the ankles to display her metal studded leather stiletto heels.
Carla unzipped the front of her skirt and lifted her ass off the bed as she stripped the garment down her shapley legs and over the heels. She shifted onto her knees and looked back as she tilted up her ass and the seat of her panties and shiny hose stretched tightly around the curve of her buttocks.
Carla knelt upright and stripped off her top, revealing the multicolored underwired bra that matched her panties. Then she lay on the gold silk bed-sheets and pushed her hand down the front of her pantyhose and moved it under the stretchy nylon gusset between her thighs.
Carla lifted her legs and slipped off her heels and dangled them momentarily from her stockinged toes, then stripped off the bra to unleash her gorgeous full-sized breasts. She posed topless as she lay back once more on the bed, lifting her legs high to give a close-up of her pretty feet as she rubbed them together in their silky layers of nylon hosiery.