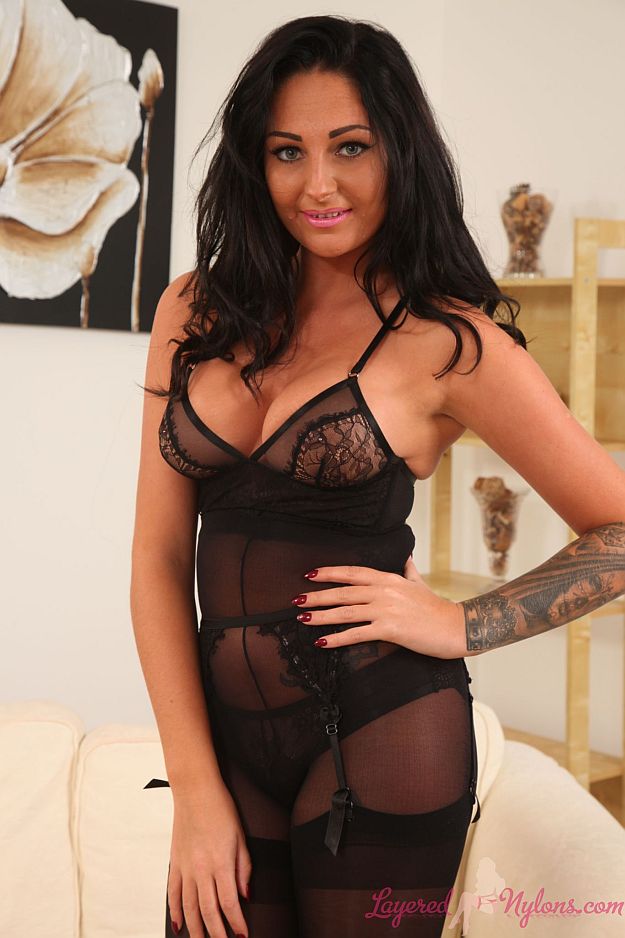 Lauren looked sexy and glamorous dressed in a sheer nylon blouse, a metallic pencil skirt, black nylon hosiery and heels at the start of her latest photo-set.
The detail of the black lacy bra showed clearly through the sheer nylon material of her blouse while she posed for us on the sofa. She parted the side split of her skirt to show her thighs in sexy black suspenders and stockings, layered over nylon pantyhose.
Lauren unzipped the skirt at the side and pulled it down, revealing black laced panties clinging to the cheeks of her bum under her sheer nylon tights. Her black suspenders stretched over the curve of her nylon clad buttocks and pulled taut on the tops of her nylon stockings.
Lauren stripped the blouse over her head, uncovering the ample flesh of her cleavage supported by her sexy, sheer black bra. Her high-waist pantyhose, suspender-belt, panties and stockings, altogether forming a very sexy combo which covered her body in seductive layers of lingerie and nylon.