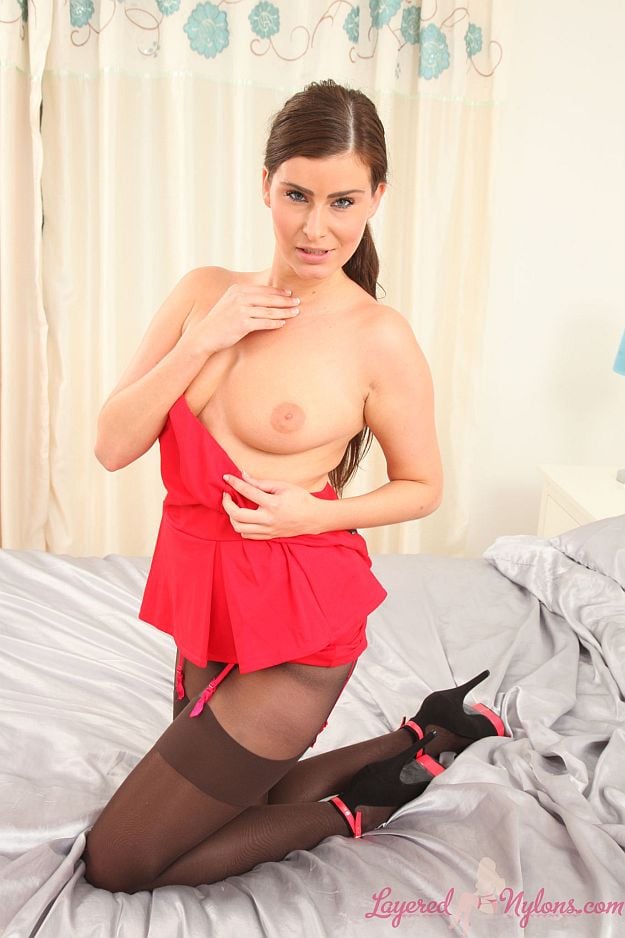 Kamila has a classy look about her while she pouts and poses elegantly in a red dress, her long legs clad in dark nylon hosiery and stiletto heels.
Giving a seductive look over her shoulder, she lifts her dress to reveal her buttocks encased in dark pantyhose and bound by red suspenders attached to the tops of her brown stockings.
Bending slightly forward over the bed, she extends her legs and poses in her heels, the muscles of her buttocks tightening under the layer of her sexy, nylon pantyhose.
Kamila strips the dress over her head, revealing her all natural breasts and a lacy red suspender-belt around her hips; the suspender straps framing the area of her pantyhose crotch under which she is sans panties.
Reclining on the bed, Kamila stretches out her long legs and pulls on the straps of her suspenders so they tug on the tops of her dark brown stockings. She sits up and reaches down to unbuckle the straps around her ankles and takes off her heels, then slides the sole of one foot over the other as she points her toes in their layers of nylon hosiery.