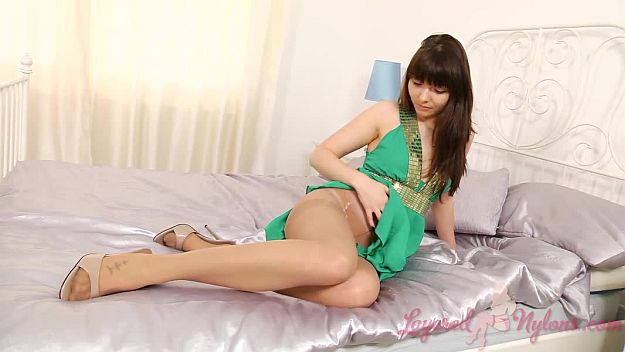 Brunette babe Helen G lifted the folds of her pretty green dress up around her thighs, revealing white panties, suspenders and tan stockings, under a layer of sheer nylon pantyhose.
Her legs looked lovely as she stood and posed in her open-toe slingback heels, holding up her dress to show off her cute little ass clad in panties and sheer nylon hosiery.
Helen reclined on the silky covers of the bed with her dress pulled up around her waist and caressed her bum clad in nylon, running her hands over her legs and around her feet in their sexy mules.
Lifting up her legs, she eased off each of her shoes and balanced them on the balls of her feet. Discarding the heels, she raised her legs higher to show the soles of her stockinged feet and rubbed her fingers between her toes in their layers of nylon.
Helen unzipped the side of her dress and stripped it over her head, revealing her petite all natural breasts. She hooked her thumbs under the waist of her hose and slightly pulled them down to show more of her white suspender-belt and panties.
Helen looked so pretty as she stood by the bed in her stockinged feet, caressing her pretty breasts as she posed topless in her lingerie, stockings and pantyhose.