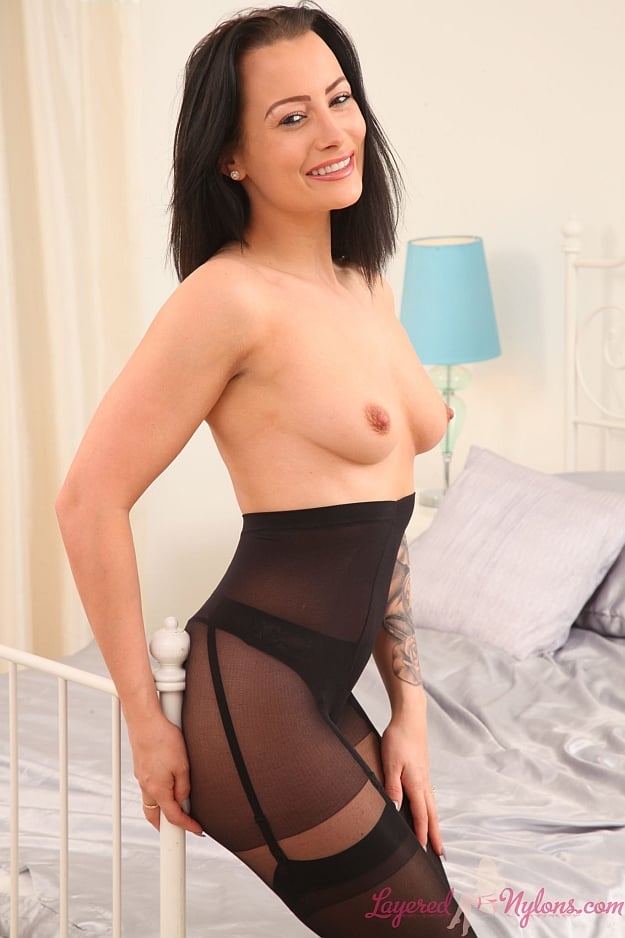 Gorgeous Kelli wore a two piece outfit, the top half with an open diagonal front that gave a view of her cleavage, and a short blue skirt which barley covered her thighs in their black hosiery.
Kelli reclined on the bed with her head on a pillow and lifted up her legs, crossing them at the ankles and pointing her black stiletto heels vertically. She drew her hands down the back of her legs and spread her fingers over the cheeks of her ass encased in nylon hose; her black suspenders stretched taut around her buttocks and over her thighs, straining on the tops of her stockings.
Kelli stripped off her skirt and lay on the bed with her legs open, then pulled aside her top to uncover her all natural breasts and thick nipples. She stripped the top away and knelt on the bed while she posed topless, pulling the waist of her pantyhose up so the gusset stretched tight around her pantie crotch.
Laying on her back, Kelli swung her legs up high and crossed her ankles to give a view of her sledner feet in their layers of black nylon hosiery.