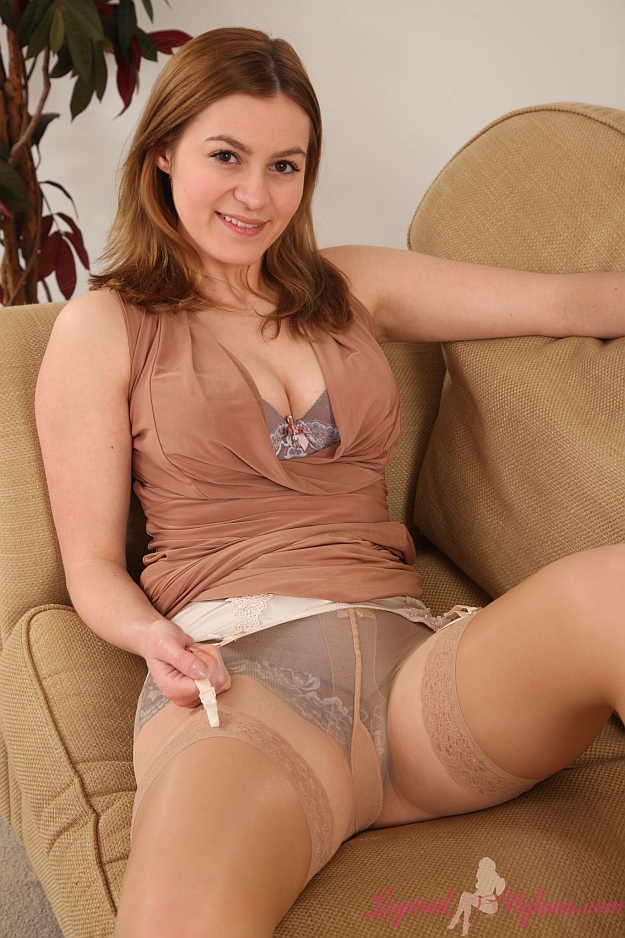 Summer stood and posed in a long evening dress that clung to her body and thighs; the outlines of her suspenders clearly visible through the material. Lifting the heavy folds of the dress, she revealed lacy panties under a layer of tan sheer nylon pantyhose and a cream coloured suspender-belt attached to beige, lace topped stockings.
Summer stripped the dress over her head, uncovering the matching lacy bra that supported her breasts. Keeling on the sofa, she tilted up her ass to show the clingy panties under her hose and the taut suspenders stretched over her buttocks pulling on the tops of her sexy stockings.
Summer unbuckled her pink-beige, open-toe heels to swing and dangle them from her stockinged toes. Removing the shoes, she lifted and pressed her legs together to show the soles of her feet in their layers of beige-nylon hosiery.
Standing in her stockinged feet, Summer stripped off the bra and exposed her pendulous all natural breasts as she posed topless in her lingerie, pantyhose and stockings.