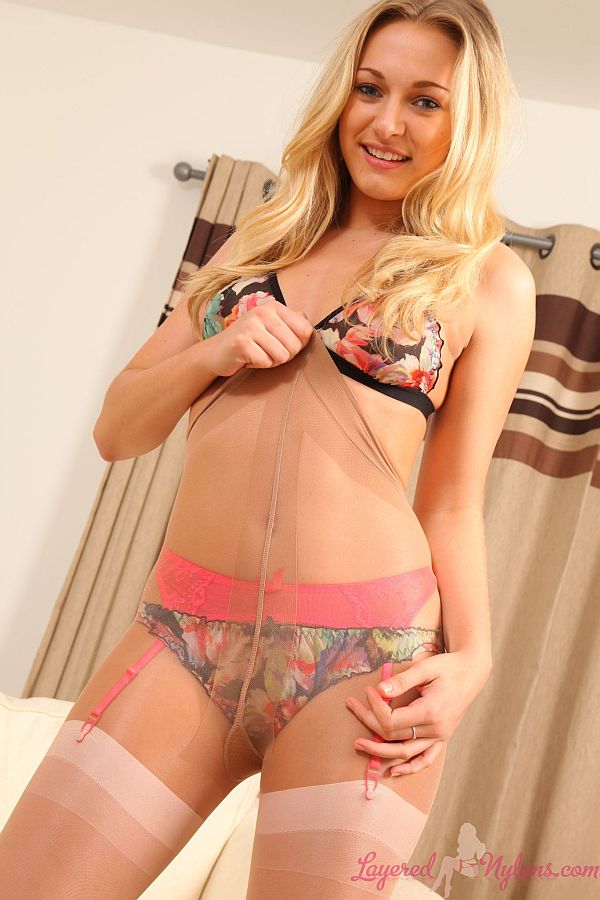 Kay looked very pretty as she posed and lifted her floral summer dress, giving a tantalizing glimpse of pink suspender attached to the tops of her white nylon stockings.
Sitting on the arm of the sofa with her legs parted, she gave us an upskirt view of her pretty floral panties, through the gusset of her sheer, tan nylon pantyhose. Then she stripped the dress off to reveal her matching floral bra, plus pink suspender belt and panties under the layer of her high-waist, nylon pantyhose.
Kay tugged on the waist of her pantyhose and stretched it up her front, making the gusset pull tight around the crotch of her panties, then turned to give a view of her ass, sheathed in its delicate layer of shiny nylon.
Kay reclined on the sofa, smiling pleasantly as she seductively teased the straps of her bra over her shoulders and pulled down the cups, revealing each of her breasts in turn. Stripping the bra away, she reached down to slip off her pink, peep toe heels and lifted her legs to let them dangle from her stockinged toes.
Kay removed the heels, then sitting back she extended her legs and brushed them together and gave closed up views of her pretty feet cocooned in layers of soft and sexy nylon hosiery.